The Cher Show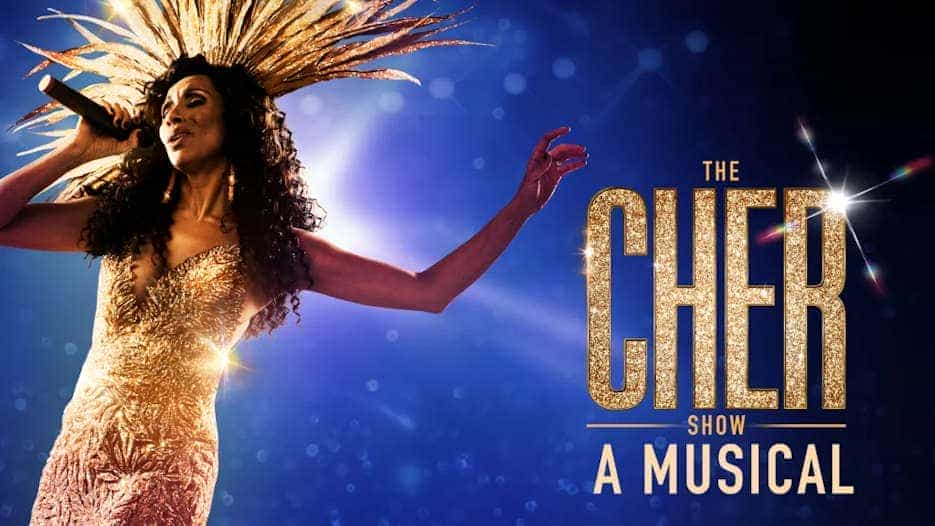 Six decades of stardom, over a hundred million records sold. Legend, icon, Queen. She is Cher and this is her show.
Goddess warrior of pop turned Hollywood royalty, the Grammy®, Oscar®, Emmy® and Golden Globe® award-winning Queen of re-invention has conquered it all. It's now time to turn back time with this fiercely fabulous kick-ass new musical, from the writer of Jersey Boys, to honour the original Queen of sass – the inimitable Cher.
From a young kid with big dreams, to the dizzying heights of global stardom, The Cher Show tells the incredible story of Cher's meteoric rise to fame, flying in the face of convention at every turn.
In a dazzling glitter fest of flamboyant glory, sparkling with Cher's signature wit and style, you'll be spinning in the aisles to the sounds of her biggest hits, including The Shoop Shoop Song, I Got You Babe, Turn Back Time, Strong Enough and Believe. A joyous party musical celebrating independence and individuality - be inspired by the greatest influencer of our time! Cher the love and believe again!
Written by Tony award-winning Rick Elice (Jersey Boys), this brand new UK production is directed by Arlene Phillips (Grease, Starlight Express), choreographed by Oti Mabuse (double Strictly winner) with costumes by Gabriella Slade (Spice World Tour, SIX).
"All of us invent ourselves.
Some of us just have more imagination than others"
CHER
The Cher Show Tickets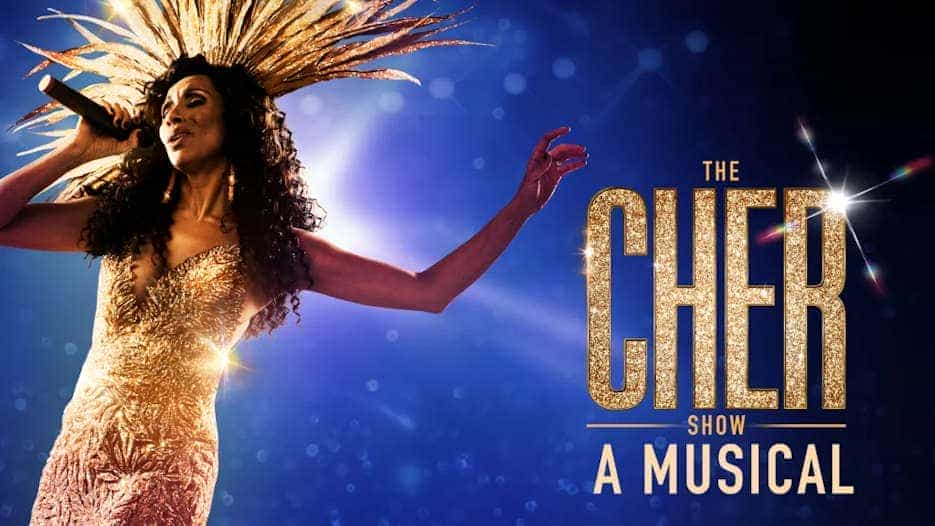 Sorry, there are no tickets for The Cher Show in Liverpool available at the moment. This maybe due to one of the following reasons:
- The Cher Show in Liverpool tickets are currently not on sale.
- The event has sold out.
- Details have not yet been announced for The Cher Show in Liverpool.
- The event may have been cancelled.
- The event has been and gone.
Join our free mailing list for
updates about this event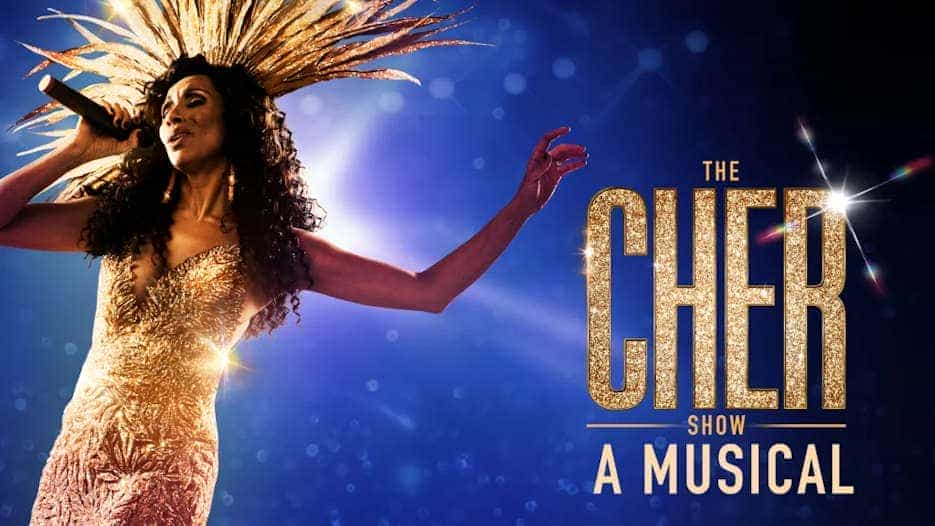 Our review on The Cher Show
The Cher Show - Manchester Opera House - Tuesday 17th May 2022 by Karen Ryder
Our Rating
With over 80 singles, almost 30 featured songs, endless movies, TV shows and goodness knows what else spanning seven decades, if you don't know the name Cher – then you need to "Snap Out Of It!" Cher is a true superstar and her iconic looks have cemented her as a hero in the hearts of many fans across the globe. Whether your era is 'Bang Bang (my baby shot me down)', 'Gypsies, Tramps And Thieves', 'Dead Ringer For Love', 'If I could Turn Back Time', 'Shoop Shoop Song', 'Believe', or 'Fernando' from Mamma Mia 2, Cher will demand your attention at some point in your life. So in true Cher style, why settle for one actor to play you in a musical when you can have three?! I love this idea for it allows us to grasp the different stages of Cher's life from teenage wannabe, to new rising star, and idol extraordinaire, highlighting the distinct versions of herself with an intrinsic and unique insight into her true self. These various stages each bring their own nuances and inner saboteurs to Cher's life and are delivered through a beautifully moving and uplifting story that doesn't shy away from what is on occasion, the savage truth.
Cher's story and rise to success is no secret. It has been explored in film, documentaries and books numerous times over the years and remains one of fascination to us all. It is a true-life rags to riches tale, with many plot twists, set backs, heartaches, and controversies along the way, all matched in equal strength with endless awards, accolades and inspirational survival instincts that prove exactly why Cher is to be admired and indeed have her very own musical. She has overcome impossible situations with a steely determination that marks her success as a human far more than any award could ever do. We follow the young Cherilyn Sarkisian from southern California, and see the inner struggles of talent versus confidence, love versus loathing and control versus truth that all need to be conquered for our superstar Cher to emerge. The show is dripping with other famous names such as controlling boyfriend Sonny Bono, costume designer and friend Bob Mackie, and husband number two Greg Allman, each playing a vital role in moulding Cher into the icon we know and love. Throw in a few extra quirky characters, such as her fabulous mother, and the stage is set for wonderful one liners from Rick Elice's book, fabulous costumes from Gabriella Slade, and an eclectic mix of sequins, songs, sass and spectacular showbiz salutations.
Teenage Cher (named Babe in the show) is played by Millie O' Connell (Rent, Hair, Be More Chill, Six) and she nails the Cher-ism's to a T. She is magnetic and enigmatic, making it quite clear why this young Cher was destined to be a star. The same can be said for O' Connell. Her performance is incredible and she immediately won over the audience full of die hard Cher fans within seconds.
Rising star Cher (named Lady in the show) is played by Danielle Steers (Six, Bat Out Of Hell, Sweet Charity, Beautiful). Steers has some difficult and emotional elements to portray, from the break up of her marriage, and the struggle of family life and self doubt. Her performance is emotive and her vocals moved many to tears on more than one occasion. Steers was an expert at driving home Cher's dry sense of humour with ease.
Lastly, our revival icon Cher (named Star in the show) was played by Debbie Kurup (Bonnie & Clyde, Sweet Charity, The Prince Of Egypt, Anything Goes, The Bodyguard) who dazzled us in the role. Kurup is mesmerising and indicative as the superstar. She raises the roof off the theatre with her performance and there is the definite feeling that this is what the fans came for.
Lucas Rush (Evita, Rock Of Ages, Ameican Idiot) is the love to hate to love Sonny Bono. They take us on an intense journey from loveable rogue to hard and bitter Manager, as we see Sonny's soul being stolen by the devil that is showbiz. Rush's vocals are insanely good and their portrayal of Sonny was spot on – even down to the way they holds their physique. They matched all three Cher's with quick wit and banter, and together recreated that unique relationship known worldwide. Another great support is Sam Ferriday (Heathers, The Wedding Singer, Rock Of Ages) who multi roles throughout, each as convincing as the last, but none more so than his portrayal of Cher's second husband.
Jake Mitchell (Snow White & The Happy Ever After Beauty Salon, The Tailor Of Gloucester, Alice In Wonderland) was every bit as fabulous as you'd expect Bob Mackie to be, and was instantly likeable. His dance routine was simply gorgeous and again his characterisation was impeccable. Tori Scott (Edinburgh Fringe, Better Nate Than Never, Sesame Street) was brilliant casting as Cher's mum Georgia, for she was able to blend the love, banter, and support with each version of Cher in equal measures and belt out some cracking vocals too.
I was particularly keen to feast my eyes on the dance numbers as there has been a lot of publicity around the outstanding Oti Mabuse choreographing the show and Dame Arlene Phillips directing. I have to say, it was a feast! I picked up on a buffet of dance styles from Fosse, to Latin, to street, to jazz, to ballroom and musical. The styles flowed into one with a gorgeous ease and the overall impact was the pure class that is Mabuse.
What stands out for me in this show is how Cher's infamous dry sense of humour, banter and quick wit have been captured so perfectly. She is the Queen of the comebacks – not just with her never ending Farewell Tours - but with her sense of humour too. The story is funny, playful and hosts not only new and unique jokes, but all the best lines that Cher has ever spoken – either as quotes from films or just her own little nuggets of advice on this thing we call life. "I think that the longer I look good, the better gay men feel." "I called my dog six miles so I can say I walk six miles every day." If you know and love Cher (which tonight's audience clearly did) then you will not be disappointed by the amount they throw in. Another fun moment is during the song, "All I Ever Need Is You," where Sonny and Cher are having a life changing, divorce making argument, and at the same time are on live television. They argue like cat and dog and the second the cameras roll, they switch into their happy, showbiz song, then switch back to arguing again. Creative storytelling moments such as these are scattered throughout the show and it really adds to its overall impact. In contrast, the show also knows how to pull on your heartstrings with powerful and empowering vocal performances such as "Song For The Lonely," and "Strong Enough." The show isn't afraid to have moments where it strips back either and relies solely on the undeniable talent of its three Cher's, leaving the audience with nothing but an empty stage, a spotlight and their voice. These moments are spine-tinglingly incredible.
Tom Rogers' set is a clever way of supporting the story by inviting us to explore the real Cher rather than the celebrity and public persona. This is achieved by creating a backstage set where Cher is herself and not performing, with the main backdrop being rows and rows of floor to ceiling Cher wigs and zipped up costumes. Dressing tables, mirrors and wonderfully selected props are alternated to represent each year and decade of her impressive career. They even guide you to the exact year, by a New York subway having the current year the story is set in emblazed on it, or the back of dancers costumes, or a bed. This is all enhanced with creative and often spectacular lighting from Ben Cracknell, particularly so in the Bob Mackie fashion parade and the dazzling finale where the lighting illuminates everyone from the inside out. Slade's costumes are possibly one of the features most anticipated in a show about Cher, and they do not disappoint. Respectfully saluting some of the most iconic costumes of our time, Slade delights the audience with an eclectic mix of rhinestones, glitter, leather, chains, fringing, high heeled boots, and beauty. The result is eye popping!
The finale is an epic hit parade sing-a-long designed to satisfy and to celebrate Cher in an illuminating and invigorating way. What a great party and acknowledgment of a back catalogue that has brought all of us together here tonight. The audience are encouraged to jump up, join in, film, take pictures and generally create a concert vibe, which is exactly what we did. Music is most definitely a gift, and Cher has chered (sorry – I had to at least once) that gift with the world. So, throw your head back, laugh, sing, dance, shimmy and simply give in to the party vibe. Dress up, don't dress up but do turn up, and turn up with abandonment, for as the wise lady herself once said, "Until you're ready to look foolish, you'll never have the possibility of being great."


WE SCORE THE CHER SHOW - 9/10

Most Popular Shows and Events in Liverpool