Waitress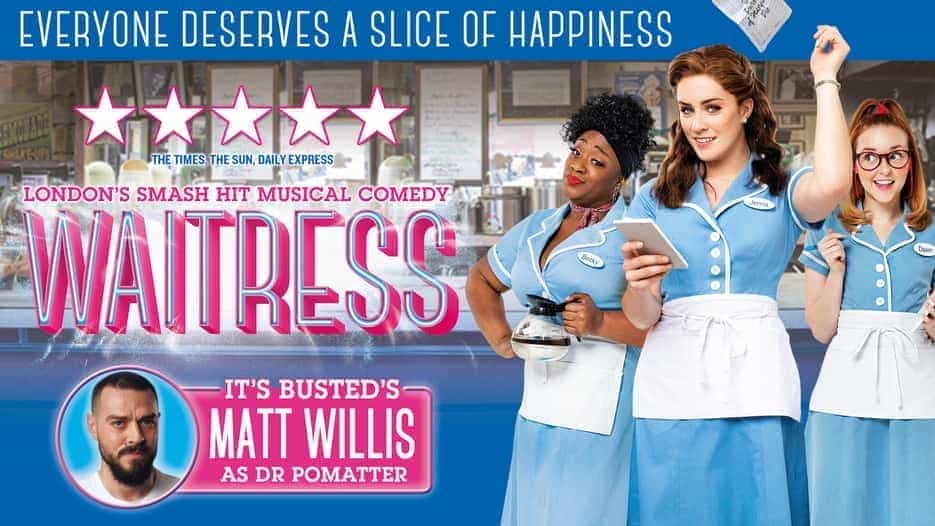 "Treat yourself to a slice of five-star musical pie" (The Times) as Lucie Jones (Waitress, Les Misérables, Legally Blonde) stars in the hit musical comedy WAITRESS as Jenna, with Sandra Marvin (Waitress, ITV's Emmerdale, Hairspray) playing Becky, Evelyn Hoskins (Waitress, Spring Awakening) as Dawn and Matt Willis (Busted, A Christmas Carol, Wicked) as Dr Pomatter.

Meet Jenna, a waitress and expert pie-maker who dreams of some happiness in her life. When a hot new doctor arrives in town, life gets complicated. With the support of her workmates Becky and Dawn, Jenna overcomes the challenges she faces and finds that laughter, love and friendship can provide the perfect recipe for happiness.

Brought to life by a ground-breaking, female-led creative team, this "warm, witty, wise and hilarious" (Express) hit features "one of the best scores in years" (The Stage) by the Grammy award-winning Sara Bareilles (Love Song, Brave) a book by acclaimed screenwriter Jessie Nelson (I Am Sam) and direction by Tony® Award-winner Diane Paulus (Pippin, Finding Neverland).
Having received standing ovations night after night in London's West End and on Broadway, Waitress is "the real deal" (Independent) musical comedy "made from the finest ingredients" (Time Out).
Book now and get your tickets to this "joyously life-affirming celebration of love and friendship" (Express).

Duration - 2 hours 40 minutes incl. interval.

Waitress Tickets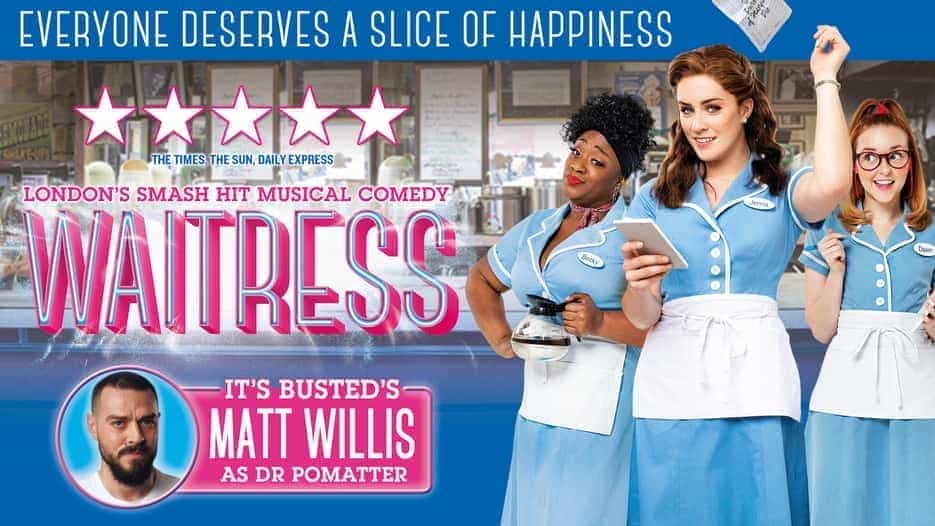 Sorry, there are no tickets for Waitress in Liverpool available at the moment. This maybe due to one of the following reasons:
- Waitress in Liverpool tickets are currently not on sale.
- The event has sold out.
- Details have not yet been announced for Waitress in Liverpool.
- The event may have been cancelled.
- The event has been and gone.
Join our free mailing list for
updates about this event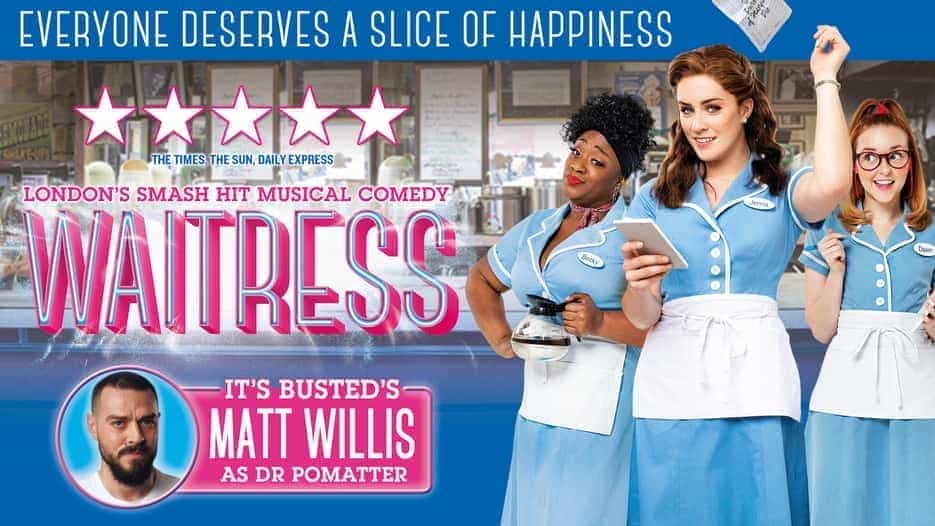 Our review on Waitress
Waitress - Opera House, Manchester - Tuesday 9th November 2021 by Karen Ryder
Our Rating
I know a couple of people who are crazy mad about Waitress so I was excited grab a slice of the action for myself. I watched the film that the musical is based on a few weeks ago and enjoyed it. I'd heard a few bits of the songs here and there and I have eaten lots and lots of cookies and cupcakes in preparation – purely to be a "method audience member" of course. I had all the ingredients, I just needed to put them altogether in a preheated theatre.
Of course, my friends were right and it was only a batter of time before I realised what a pie opening show Waitress truly is. It is light and fluffy, sweet and sugary, with moments that will move you to tiers.


We follow the story of Jenna (played by Lucie Jones), a waitress working in a South America diner. She doesn't want much from life, happiness, friends, to bake pies and one day own her own shop, oh and to escape her brutal, battering bully of a husband. When Jenna falls pregnant and visits her new gynaecologist Dr. Pomatter (Matt Willis), little does she know that her own bun in the oven will be the best thing she has ever made. Jenna and Dr. Pomater fall in love and you can't help but feel that even though it's inappropriate what with him being her doctor and all, and that poor Mrs. Pomatter did nothing to deserve this, they belong together. You want their love to succeed and for Jenna and Dr. Pomatter to be a match made in heaven, after all he is a doctor - you can trust him!
Becky and Dawn (Sandra Marvin & Evelyn Hoskins) complete the trio of waitresses in Joe's Diner and we also follow their pursuit for happiness too. When Dawn meets Ogie (George Crawford) on a five minute date, we see him woo her through his "impromptu poetry" and shared love for war re-enactments. They make a hilarious and adorable couple who really help bring a whole new serving of comedy to this production. Becky has her own little secret love affair baking away too and we learn that even though she is married and still loves her husband, things aren't always that straight forward and simple. Becky was my favourite character as her quick wit and sarcasm was matched by her huge heart.


Jenna has some tough decisions to make, and as we see her make the toughest one of all, she receives a great big whoop whoop from the audience, showing just how involved everyone had become in the lives of these characters. Jenna's story is a legend in the baking and the cherry on her cake is a beautiful gift from Joe and the arrival of the true love of her life, Lulu.
Waitress feels different to other musicals. It's acting style in places is so intimate, you truly believe you are eaves dropping on real people in a real diner. The set is realistic and dynamic, making use of the full size of the stage. The digital imagery truly transports you to a small town in Southern America and has an exciting cinematic vibe about it. The production incorporates the band into the action too so they feel like the house band at Joe's Diner and equally double up as customers when they aren't playing. They take us from big comedy show stopping numbers such as "Never ever getting rid of me," to beautifully haunting acoustic solos. Waitress has all the familiar ingredients of a musical and yet it feels as brand new as Jenna's special pie of the day.


So what about the cast? Lucie Jones (X Factor, Les Mis, A Christmas Carol, Rent, Legally Blonde) is so natural and believable as Jenna, I kept forgetting she was playing a part, and her vocals are just stunning. Her rendition of "She Used to be mine," was sung with such emotion you'd be hard as nails not to feel her pain. She really was born to play the role of Jenna.
Matt Willis (Busted, Wicked, A Christmas Carol, Footloose) is as beautifully awkward as Dr. Pomatter should be, providing touching and comedic moments throughout. He has a great stage chemistry with Lucie Jones and is extremely agile with his physicality – a future Strictly contestant maybe?
Sandra Marvin (Jessie Grant in Emmerdale, Call the Midwife, Stepping out, Chicago, Hairspray) is just stage gold as Becky. I LOVED her. Her solo "I didn't plan it," showed her vocals more than matched her brilliant acting. She had such comedic detail and natural stage presence that you felt safe, comfortable and content watching her perform.


Evelyn Hoskins (Cruel Intentions, Sound Of Music Live TV special, Spring Awakening) was delightfully quirky as Dawn and tiny as she may be, she packed an almighty punch with her performance, especially alongside George Crawford (Book of Mormon, Newsies, George in the Park). Like a chocolate pie with whipped cream, separate they were wonderful but together they were complete.
It was a fantastic surprise to discover Michael Starke (Brookside, Coronation Street, Benidorm, Sister Act, Rocky Horror, Hairspray) was in the cast as the grumpy and pedantic diner owner Joe. Starke was a fantastic example of the productions intimate and personal style of acting that really pulled you into the story and gave this musical a hybrid feel of television, stage and musical.
Christopher D. Hunt (We will Rock You, To Kill A Mocking Bird, Addams Family) and understudy Nathanael Landskroner (Back To The Future, An Officer & A Gentleman, Scrooge) completed the main cast as Cal – the diners manager and Earl – Jenna's abusive husband. They played totally opposing roles and both executed them so well. The ensemble created subtle believability throughout, subtle because you didn't always realise they were there, doing the most enhancing choreography, yet without them, the show would not be what it is.


Waitress is a tale that shows life is what you bake it, and it clearly has a huge following. The audience jumped up into a standing ovation without a moments hesitation before I had even realised the show was over and I couldn't help but join them. Waitress was really a refreshing musical, which stays very true to the original film, so for a wonderful slice of theatre, head down to the Manchester Opera House because Waitress is all you knead.
WE SCORE WAITRESS – 9/10
Other events you may like...
Most Popular Shows and Events in Liverpool