Hairspray the Musical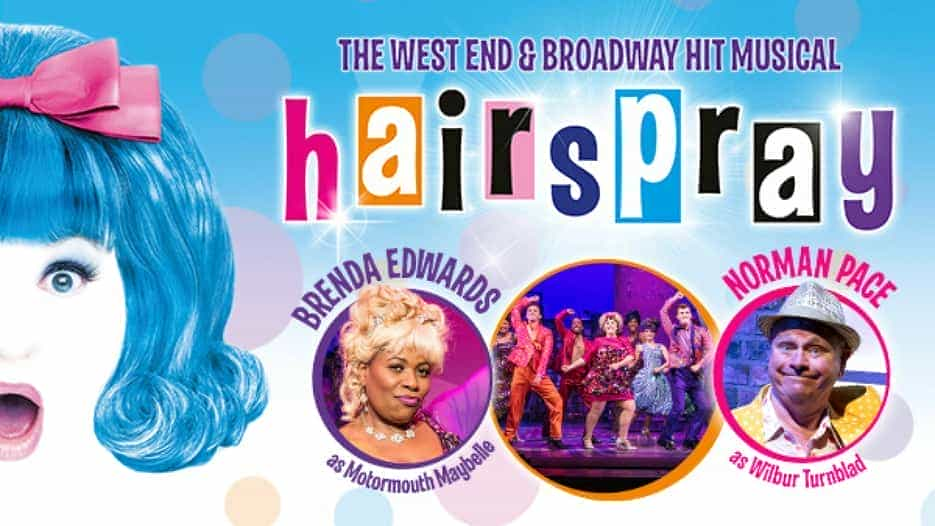 It's Baltimore, 1962 where Tracy Turnblad, a big girl with big hair and an even bigger heart, is on a mission to follow her dreams and dance her way onto national TV. Tracy's audition makes her a local star and soon she is using her new-found fame to fight for equality, bagging local heartthrob Link Larkin along the way!
Featuring the hit songs Welcome To The 60s, You Can?t Stop The Beat, The Nicest Kids in Town and many more.
Starring Brenda Edwards as Motormouth Maybelle and Norman Pace as Wilbur Turnblad.
Hairspray the Musical Tickets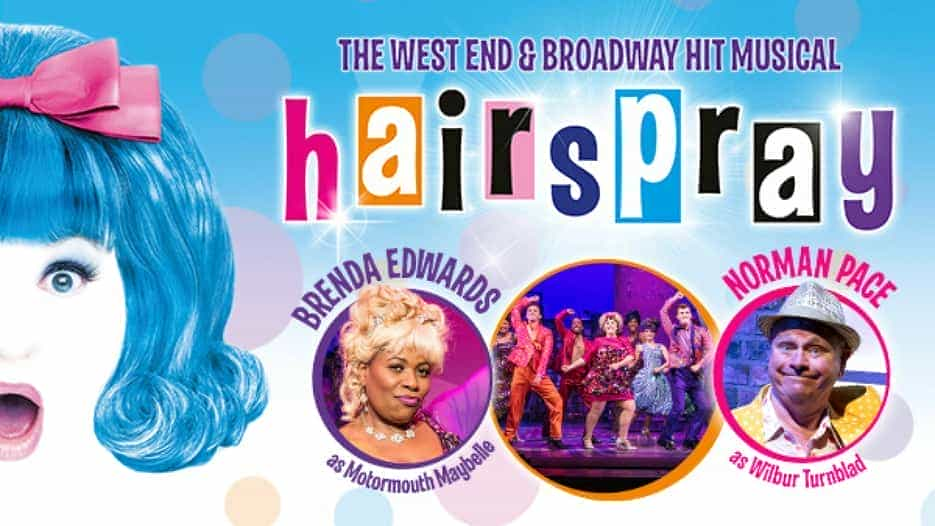 Sorry, there are no tickets for Hairspray the Musical in Liverpool available at the moment. This maybe due to one of the following reasons:
- Hairspray the Musical in Liverpool tickets are currently not on sale.
- The event has sold out.
- Details have not yet been announced for Hairspray the Musical in Liverpool.
- The event may have been cancelled.
- The event has been and gone.
Join our free mailing list for
updates about this event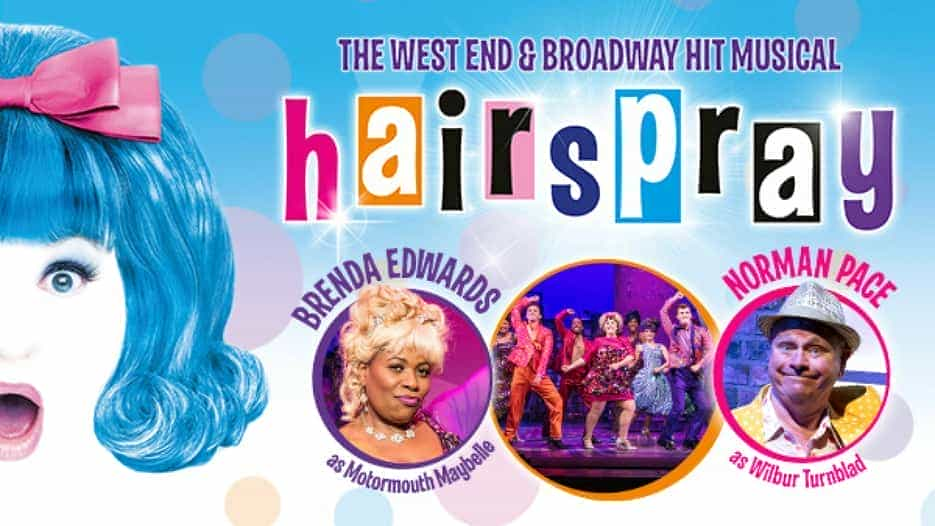 Hairspray the Musical ON TOUR
Our review on Hairspray the Musical
Hairspray - Palace Theatre, Manchester - Monday 25th October 2021 by Karen Ryder
Our Rating
You can't stop the beat belting hit show that is Hairspray! I swear this show has a life force of its own, for just like Tracy Turnblad's hairdo, it seems to get bigger, stronger and accumulate more dedicated fans with each production that spritzes into town.
Hairspray covers some pretty heavy topics such as racism, sexism, body image, self-belief and peer pressure so it's a testament to the productions songs, costumes and book that it never feels like that famous beehive hairdo is weighing down too heavy on your head.



Right from the start with the brilliant opener of Good Morning Baltimore, we follow Tracy Turnblad as she tries to make sense of the world she lives in. All she wants to do is dance with her friends on The Corny Collins Show (and bag heartthrob Link Larking along the way of course) but she is told she can't be on TV because of her size and she can't dance with all of her friends because this is the 1960's in Baltimore and racism prevents it. It all seems so stupid to Tracy who has such a beautiful and simplistic view of the world – after all, dance is just dance and people are just people. How does size and skin colour alter the dance routines in any way, shape or form? With the support of her best friend Penny Pingleton, her new friend Seaweed and family, her new boyfriend Link (yes she did bag him – is that still even a phrase or am I showing my age?) her devoted dad and her fabulous mum, Tracy fights and stands up for what she believes in – equality. Yes - it lands her in prison and yes it gives her arch enemy Amber more ammunition to taunt her with, but it also breaks barriers, causes revolutionary change and makes for the riotously rockin' tunes any Hairspray fan will quote at you till they can't quote no more!



Hairspray is a hair-raising heck of a happy show that still manages to educate – and not just about those hard hitting topics either! You'll learn that you're not the only one out there to have imagined a whole wedding scenario just because someone cute brushed past you. You'll learn you're not the only one who ever thought their own mum could NEVER have possibly been a teenager and as the show reaches its show stopping finale, you'll learn that "You can try to stop your dancing feet, but you just cannot sit still!" And neither should you! Jump up! Boogie with Baltimore's brand new stars! Enjoy the moment, because as Motormouth Maybelle says, "You'd better brace yourselves for a whole lotta ugly comin' at you from a never-ending parade of stupid," when you enter the real world again because we all know that there is still so much more change that needs to come (and because sometimes people are just rude – yes lady in the carpark queue who repeatedly accused us of pushing in when we were just trying to get to the lift – I am talking to you! Hint here, get the NCP app on your phone and you don't have to queue for the machine!)



Anyhoo, back to Hairspray. My reviews seem to have been mostly getting 10/10 since theatre started back so I truly went tonight with a more critical eye to make sure I wasn't just getting swept up at being "back home." But there was nothing to fault. The only thing I could come up with was that the second half felt more alive than the first, but that's not to say that there was anything wrong with the first (and it may also have had to do more with my ice cream sugar rush at the interval kicking in! Well it wasn't my fault I gave in to the craving – I mean if they're going to place a song just before the interval called "Big Blonde And Beautiful" that basically encourages me to "Scoop me up a mess of that chocolate swirl. Don't be stingy, I'm a growing girl," then it would be almost rude NOT to buy the ice cream!



Katie Brace opens the show (to applause before she has even sang a note) as Tracy Turnblad. This is Katie's professional debut and wow! I have seen Hairspray one or ten times before and she is possibly my favourite. Tracy is a likeable and funny character anyway, but Katie brought a new level of comedy that I haven't seen before and mastered the almost impossible task of singing and dancing like mad at the same time, without ever sounding out of breath. Alex Bourne (Daddy Warbucks in Annie, Buddy, Danny Zuko in Grease, Frank N' Furter in Rocky Horror) plays Edna Turnblad - Tracy's mum - and has a show stopping moment alongside Norman Pace (one half of comedy duo Hale & Pace – Tree! Treee! Lulu! Black Pepper – sorry I can't not quote them!) as Wilbur in their duo "Timeless To Me." I definitely felt the Hairspray fan club was in tonight as the majority of the audience knew this was one of the shows moments, and it did not disappoint.



Bourne & Pace create the perfect partnership and it was clear from the laughter, cheers, giggles and singing that everyone agreed. Brenda Edwards (X Factor, Killer Queen in WWRY, Mama Moreton in Chicago and a regular on Loose Women) plays Maybelle Motormouth and was sensational. When she sang "I know Where I've been," I was agog. I watched and listened in wide eyed awe, mouth open like a cod fish, stunned by her crazy talented, moving and uplifting performance. I mean, blimey she's got pipes like the Tower Ballroom Wurlitzer! The songs message was echoed by the records on the backdrop changing to inspirational and heroic figures who have made a difference in the world. People were on their feet at the end of her song and as I needed a moment to digest the sheer brilliance I had just witnessed, the show had already moved on to the next scene and I was brought back down to earth by my mum giggling like a school girl at the creatively shaped hairdo's that were now entering the stage!



This is a new production of Hairspray that 'Hair's to be different' (sorry I love a good pun) so there is minimal scenery, different dance routines, and a smaller band on stage rather than an orchestra. To say it had been stripped back to basics would give a false impression, but the bells and whistles are truly provided by the actors and musicians sharing their talents in their most honest form. And I have to say, the highest box jump I have ever seen in the history of box jumps was performed right at the end by one of the dancers (pretty certain it was Joshua Nkemdilim). Holy kamoley! The boy can jump!



The best testimony I can give to how the audience felt about tonight's performance is that usually when a show has finished and the orchestra is playing its exit music, I am usually one of only a handful of people who don't exit but wait until the bitter end to clap the orchestra. Tonight, everybody stayed. The audience wanted to soak up every possible moment of Hairspray because it truly was a breath of fresh Hairspray, a Hairspray to heaven and I would watch it Anytime any place any Hairspray. So boof up your bouffant, don your he-hives, and swing back to the 60's with this Hairpraise of a show.


WE SCORE HAIRSPRAY – 10/10


Other events you may like...
Most Popular Shows and Events in Liverpool