Greatest Days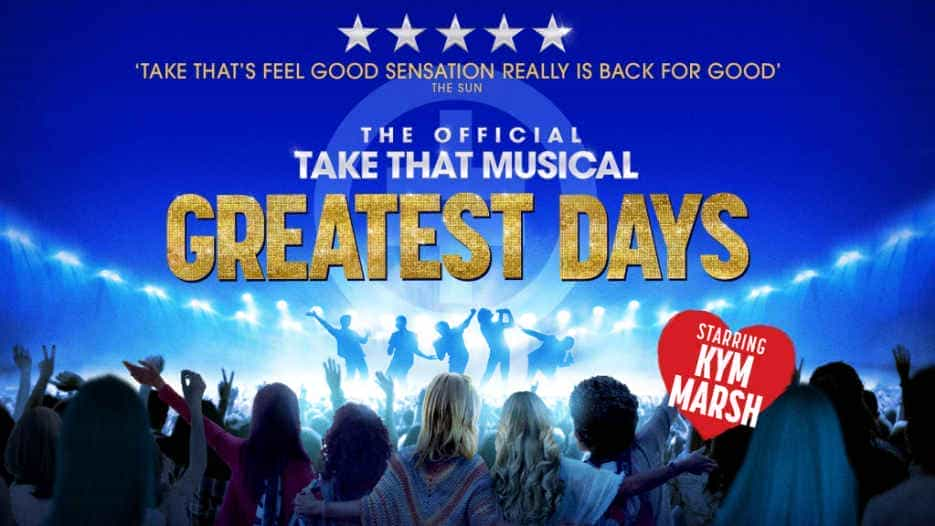 Relight Your Fire with this sensational new production of Take That's smash hit musical Greatest Days.

Greatest Days features more than 15 record-breaking Take That songs, alongside a heart-warming and hilarious story of love, loss and laughter from award-winning writer Tim Firth that will make your heart Shine.

The musical follows five boy band obsessed best friends in the 1990s, who reunite over 20 years later to see their heartthrobs one last time in what could be the Greatest Days of their life.

Greatest Days stars the award-winning Kym Marsh, who shot to stardom in noughties band Hear'Say and now best known for Coronation Street, Waterloo Road and as a presenter on the BBC's Morning Live.

Previously titled The Band, the show broke box office records and delighted audiences around the United Kingdom when it performed from 2017 – 2019.

Celebrating the 30th Anniversary of Take That's first ever UK number 1 single Pray and coinciding with the summer 2023 release of the official movie of this smash hit musical - Greatest Days is sure to be a night out at the theatre you will Never Forget.

We politely ask that you show consideration to your fellow audience members by ensuring the professionals on stage are the only people entertaining us with their performances.

Greatest Days Tickets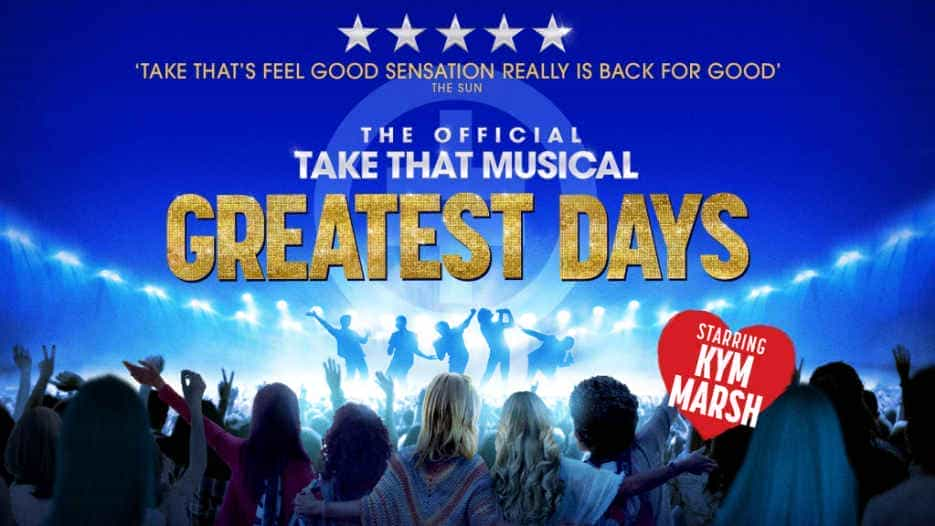 Sorry, there are no tickets for Greatest Days in Liverpool available at the moment. This maybe due to one of the following reasons:
- Greatest Days in Liverpool tickets are currently not on sale.
- The event has sold out.
- Details have not yet been announced for Greatest Days in Liverpool.
- The event may have been cancelled.
- The event has been and gone.
Join our free mailing list for
updates about this event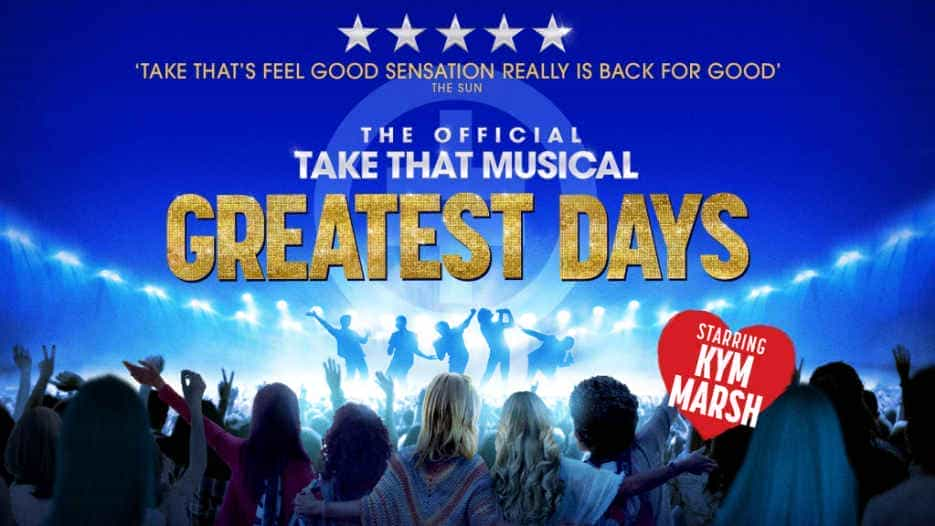 Our review on Greatest Days
Greatest Days - Palace Theatre, Manchester - Thursday 18th May 2023 by Christa Norton
Our Rating
GREATEST DAYS IS MUCH MORE THAN A TRIP DOWN MEMORY LANE - IT'S AN INVENTIVE, MOVING, INNOVATIVE AND AMUSING PRODUCTION!


There has been a plethora of artist-based musicals (also called Jukebox musicals) launched in recent years, building on the popularity of West End stalwarts such as We Will Rock You and Mamma Mia. Some have been more successful than others, depending largely on the portfolio – rather than the fame - of the chosen artist.


For example, Queen and ABBA respectively are both renowned not just for extensive back catalogues, but for the sheer range and diversity of their songs. Huge rock anthems, short piano ditties, disco beats, power ballads, they had them all and - whilst distinctive - no two of their songs are the same. This meant that when it then came to creating a musical, there was plenty of source material to create a compelling show.



So I must admit that – despite loving their music - I was curious to see if the songs of Take That would provide a similarly engaging basis for a full scale musical. The question is prescient; there have been a number of well publicised interruptions to musicals in recent weeks where audience members have been more interested in a singalong than the performance itself.


Greatest Days does not fall into this trap, instead delivering a show that rejoices in friendship, which revels in the memory of being an idol-obsessed teenager, that doesn't shy away from disappointment in life, all to a perfect soundtrack.



Written by Tim Firth (Calendar Girls, Kinky Boots), the storyline for Greatest Days (previously performed as 'The Band') follows the lives of Rachel, Zoe, Heather, Claire and Debbie, a larger than life group of best friends who see their boyband idols in concert as teenagers in the 1990s only to experience tragedy, and who reunite at a concert 20 years later to face the impact of that tragedy on their friendship and on their lives.


On face value a plot about boyband-obsessed girls may seem a little predictable and I wondered if the narrative about 40-something women looking back at their lives would hold the attention of my 12 year old son, who had joined me. But Firth has created a storyline that is sincerely touching: it is steeped in nostalgia yes, but it combines witty and clever dialogue with some emotionally powerful moments that resonate, that feel genuine.



However for me, it is the sheer inventiveness of the way that the songs are intertwined throughout every scene that makes this musical stand out. The Band (performed by Alexander O'Reilly (Jack and the Beanstalk, Hairspray), Kalifa Burton (Bugsy Malone, Everybody's talking about Jamie), Jamie Corner (Let It Shine, The Band), Archie Durrant (The King and I, Matilda the Musical) and Regan Gascoigne (Dancing on Ice, The Nutcracker)) are the boyhood idols of our heroines, and they sing and perform some fabulous showstopper routines taken straight from the Take That playbook. The energy of The Band is infectious during these moments and it is almost impossible to not join in with the songs.



Yet there are very few of these more traditional set pieces, and the rest of the time The Band play a far more intriguing role; they act almost like a Greek chorus, using shorter snippets of songs to articulate the emotions of those on stage, to evoke memory, to show internal conflict, to provide background scene setting or even to offer encouragement. In fact at one point they were the staging itself, dressed as Greek marble statues on the Parthenon! This approach makes the music – not the band – the centre of the entire show, allowing it to pervade each scene gently without becoming overwhelming. It also means we hear 15 songs throughout the show, without it turning into one long concert.


One of my favourite moments with The Band comes right at the beginning, when Debbie (Mary Moore, (Grease, Doctors)) and Young Rachel (Emilie Cunliffe (The Voice, Britain's Got Talent)) try to learn The Band's latest dance moves to a cassette recording; The Band sing and dance next to the girls as they try to remember the moves, turning it into a sweet duet.



The show centres heavily on the friendship of these two girls and I found both their performances outstanding. Mary Moore's Debbie is bubbly, vivacious, impossible to take your eyes off whilst she is on stage. Her voice is fantastic and she belts out songs with relish. Emily Cunliffe's Young Rachel is equally appealing; she has an excellent comic timing and capably leads the audience through a rollercoaster of emotions during the first half of the show.


They are joined by Kitty Harris (Emmerdale, Chicago), who gives a wonderfully louche performance as Young Heather; Mari McGinlay (Claus, Hairspray) as a sporty Young Claire in a performance that definitely seems to draw on a certain Mel C for inspiration; and Hannah Brown's (The Magician's Elephant, Hansel and Gretal) bookish Young Heather, who captures so well that uncomfortable sense of not being cool. All are excellent – you root for these girls as they share their dreams with each other and promise to always be friends.



Their older selves are predictably more weary, a little bit of the world but mostly of themselves, with particularly moving performances from Kym Marsh (Hear'Say, Coronation Street) as Rachel, Holly Ashton (Footloose, Mamma Mia) as Zoe, Jamie-Rose Monk's (Doctors, Holby City) as Claire and Rachel Harwood's (Lagging, Over to Bill) as Heather.


Kym Marsh in particular was very watchable as Rachel, now grown up yet unable to move forward with her life until she has dealt with her past. The audience can clearly see what she has lost – and what she has rediscovered by the end. But it was Jamie-Rose Monk's portrayal that really stood out as she talked through the loneliness of losing her friends and her subsequent fall into depression – for me one of the most moving parts of the show.
After some touching and difficult emotional scenes, the show ends with exactly what everyone needs – a singalong. Belting out the likes of Relight My Fire and the endlessly optimistic Shine had the entire audience on their feet and cheering just as the young girls had at the start of the show.




It goes without saying that Greatest Days is going to be a must see for any Take That fan. Indeed the show takes every opportunity to reference Take That far beyond just the music and for superfans there is some pleasing attention to detail: the costumes and outfits reflect their CD covers, the choreography is in some cases a direct lift from their music videos, as is the staging. Even the breakfast cereal is a nod to a 90s commercial promotion!


But this is so much more than a trip down memory lane: it's an original, moving story, an inventive, innovative production full of laugh out loud moments. And it's an opportunity to lose yourself in some great songs.


As we left the theatre, I asked the 12 year old what he thought. Having just witnessed his is 40 year old mum in full dance mode, hands in the air (no, I didn't care), I thought he might be a bit dismissive. Instead he pointed at a poster for the show. "Lives up to its name, doesn't it?" he said. Yes, I rather think it does.


WE SCORE GREATEST DAYS...


Greatest Days is on at the Palace Theatre, Manchester until Saturday 27th May 2023.


Watch our video "In Conversation with Regan Gascoigne" discussing the show.


WE HAVE AN EXCLUSIVE OFFER FOR MON - WED PERFORMANCES - BEST AVAILABLE SEATS FOR £29.50


Most Popular Shows and Events in Liverpool