42nd Street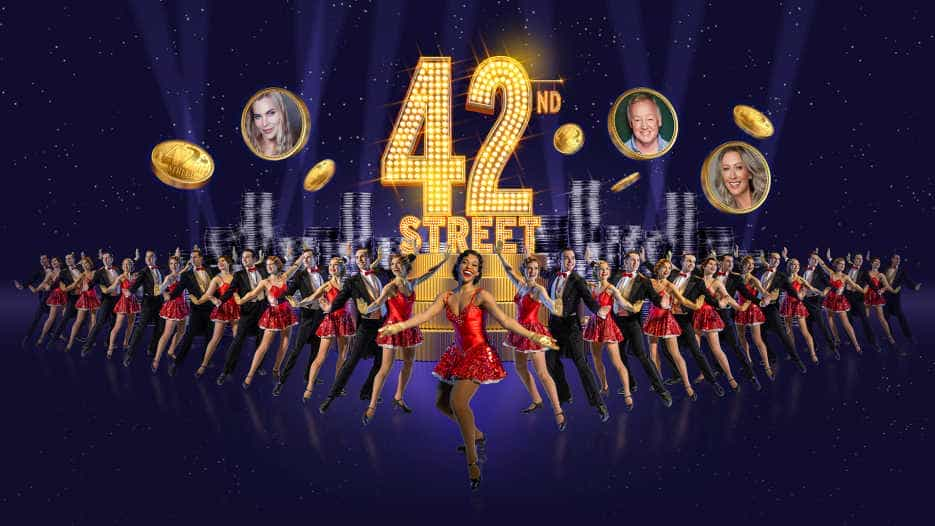 It's big… it's bright… it's a brand-spanking new production of 'the original showbiz musical,' 42nd STREET, starring Samantha Womack as Dorothy Brock, alongside Faye Tozer as Maggie Jones, Les Dennis as Bert Barry and Nicole-Lily Baisden as Peggy Sawyer.
Jonathan Church (Singin' In The Rain, The Drifters Girl) directs the iconic song-and-dance spectacular featuring a hit parade of toe-tapping songs including "42nd Street," "We're In The Money," "Lullaby of Broadway," "Shuffle Off To Buffalo" and "I Only Have Eyes For You."
Choreographed and designed by Olivier Award winners Bill Deamer and Rob Jones, 42nd STREET is a timeless and inspiring showbiz fairy tale that combines breathtaking tap dance routines, backstage intrigue, classic romance and delightful comedy to dazzling effect. It's simply irresistible!
Fresh off the bus from small-town America, young and beautiful Peggy Sawyer arrives in New York City dreaming of her name in lights. She quickly catches the eye of a big-time director and lands a spot in the chorus line of Broadway's newest show… and when the leading lady gets injured, Peggy gets her shot at stardom.
42nd STREET is a larger-than-life, massively entertaining celebration of musicals and the irrepressible spirit of Broadway that's guaranteed to lift anyone's spirits. Don't miss it!
*The appearance of any member of cast is subject to change and may be affected by contracts, holiday, illness, or events beyond the producers' control. Age Recommendation: 5+ This production contains repetitive flashing lights and visual effects, pyrotechnics, theatrical smoke and haze, and loud sound effects.
42nd Street Tickets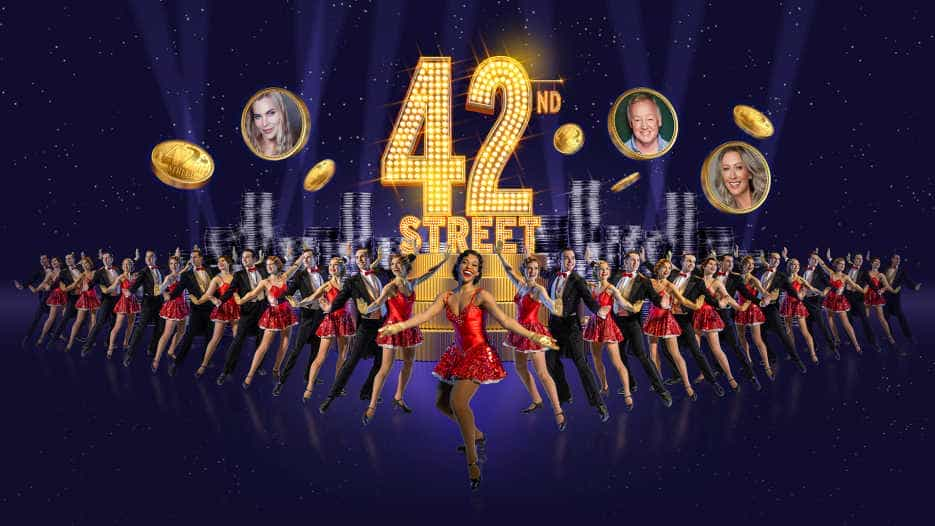 Sorry, there are no tickets for 42nd Street in Liverpool available at the moment. This maybe due to one of the following reasons:
- 42nd Street in Liverpool tickets are currently not on sale.
- The event has sold out.
- Details have not yet been announced for 42nd Street in Liverpool.
- The event may have been cancelled.
- The event has been and gone.
Join our free mailing list for
updates about this event
Our review on 42nd Street
42nd Street - Manchester Opera House - Monday 16th October 2023 by Karen Ryder
Our Rating
42ND STREET IS NOT ONLY SENSATIONAL, IT WILL FILL YOUR HEART WITH SHOWBIZ PIZAZZ!


Come and meet those dancing feet! No really! I'm not just quoting song lyrics – you really need to come and meet the inspired, talented and quickest tapping feet in town as 42nd Street is not only sensational, it will fill your heart with showbiz pizazz! This production is the epitome of spectacular musical theatre, wrapped up in a huge sequined bow, and is the perfect salute to anyone who ever had a theatrical dream. You can't help but fall in love with Peggy Sawyer, our fresh faced, enthusiastic, and innocent leading lady, who arrives from Allen Town with nothing more than a suitcase, her lucky handkerchief and hopes of getting into a Broadway show. After a somewhat ropey start in NYC, she catches the eye of big shot director Julian Marsh, who takes a chance on her to lead his whole show after his star name is injured in an accident. But Julian Marsh is not known for his delicate approach and his tactics push Peggy to breaking point. Though her love interest Billy encourages her every step of the way, the jealous and bitter Dorothy Brock refuses to make life easy for her. After all, Peggy is playing her part in a Julian Marsh show! As Peggy helps Dorothy out with a personal matter, Dorothy soon relents, and they share a moment of understanding. So, the question is - will the show go on? And will Peggy win over the demanding Julian Marsh and Broadway audiences to become the star she was destined to be? Of course she will! The whole show is built around the idea of work hard and your dreams may just come true, that there is such a thing as that one in a million chance. It is full of hope, happiness, and the hottest heels in town!
This cast will make you think that Christmas has come early! Nicole-Lily Baisden (Book Of Mormon, Anything Goes) as Peggy Sawyer is a wonder to behold. Charming, exuberant, and mystifying, she whizzes around the stage and makes a million steps per second seem effortless. Oh yeah, she's usually belting out some of the biggest Broadway numbers ever written with a spectacular voice at the same time, and then goes straight into a scene without so much as a hair or breath out of place! I genuinely could not be more in awe of Baisden's talent. What a powerhouse! Michael Praed (Dirty Rotten Scoundrels, Emmerdale) is breath taking as Julian Marsh. He exudes a commanding presence and has the aura of someone you want to impress whilst equally wanting to scream at. As his voice rings out those spine-tingling opening notes from the titular song, you know exactly why you came to the theatre. Praed provides everything you were looking for in Julian Marsh and then treats you to a little bit more, just because he can.
Samantha Womack (Eastenders, The Lion The Witch & The Wardrobe) creates the perfect diva in Dorothy Brock and pitches this against comedy allowing us to laugh at her antics with love. It is a tricky blend to achieve but one that Womack owns with full throttle to provide us with a rounded and more complex character than perhaps Dorothy has ever been in other productions over the years. Les Dennis (Spring & Port Wine, Coronation Street) as Bert Barry and Faye Tozer (Steps, Everybody's Talking About Jamie) as Maggie Jones are just sunshine on stage in their comedic partnership. They light up the theatre and clearly have a mutual respect for each other as the ease of their partnership is clear to see. They are relaxed and having fun, and therefore so are we. I could honestly have had far more of their appearances. Tozer was outstanding with her motherly presence as Maggie and left us in no doubt as to her singing ability. Dennis easily reminded us all why he is one of our nations most loved performers, for whatever IT is, Les Dennis has IT. He is endearing, charming and perfect in this role.
The energetic and perky Billy Lawlor is brought to life by the fabulous Sam Lips (Singin' In The Rain, Strictly Ballroom). He allows his character to exude confidence and self-belief, all the while keeping Billy likeable and steering clear of the pitfalls of arrogance that could entrap such a character. With toes that never stop tapping and a singing voice that could charm Craig Revel Horwood to give 10's every week, Lips may just make you fall in love with Billy a little bit. Oliver Farnworth (Fatal Attraction tour, Coronation Street) is excellent as Dorothy's love interest Pat Denning and poses a complete opposite option to her other suitor – Abner. Farnworth displays a tender and sincere relationship with Peggy too which is lovely to see. Anthony Ofoegbu (My Children My Africa, RSC) just has funny bones as Abner Dillon, Dorothy's sugar daddy. He plays the rich tycoon with such an oblivious and innocent vigor that you can't help but feel sorry for him even though in real terms he is otherwise controlling and entitled, throwing money around to get his own way, and basically his own end! Yet Ofoegbu brings such skilled comedy and empathy to the role that it blurs lines and allows us to view Abner afresh.
Directed by Jonathan Church, this dream cast are given the grace to offer their characters a breath of fresh air. The wheel hasn't been reinvented, but it has been topped up with air and perhaps given some spanking new alloys. Church clearly loves this show and has managed to pay homage to its history whilst equally bringing his own vision to a whole new generation of Broadway loving fans. It takes a brave director to touch a show such as 42nd Street but with Church in charge, we clearly have our very own Julian Marsh masterpiece.
Bill Deamer's choreography lit the stage on fire! And I'm not sure anyone could ever put this kind of fire out! Or would want to. Number after number you are brought to the edge of your seat, grinning like the Cheshire cat as the very essence of everything that is wonderful about dance elates you, and a surge of happiness takes over your soul. There is something special about tap dancing that fills you with inexplicable emotion, but this is beyond! It is beyond Allen Town, beyond The Great White Way, and beyond your shoe shuffling dreams! Partner this with shimmering costumes and a clever set designed by Robert Jones and 42nd Street makes sure that every single one of your senses are catered for.
With timeless songs, (that I have personally been singing along to since I was around four years old), such as Lullaby Of Broadway, We're In The Money, About A Quarter To Nine, and of course 42nd Street, you are never more than a few minutes away from some of musical theatres finest and most iconic melodies. And every single one lives up to its own phenomenon. I could write realms on each number, but that would be for my own indulgence, so I'll settle for a couple that simply cannot go unmentioned, such as the epic ensemble piece We're In The Money. It starts small, it builds, there's costume changes, tap dancing, props, stairs, sequins and just about everything else you could possibly wish for. I wish everyone could experience this number and feel the way it makes me feel. It's a tonic and the adrenaline rush it provides, even just sat in the audience is something very special. And of course, there's the infamous 42nd Street. This simply has to be seen to be believed. It is glorious and will have anyone who ever had even an inkling of wanting to be on stage reaching out to connect with their inner starlet in order to let them loose!
There is absolutely nothing about 42nd Street that disappoints because holy mother of tap shoes, this cast redefine the word talent! What ever you are hoping this production will be, think bigger and dream bigger. Only then will you have any hope of touching the tips of what is on offer. It is naughty, bawdy, gaudy, sporty, 42nd Street! If you want a showbiz show then 42nd Street is the one for you. It deserves its own name in lights!
Most Popular Shows and Events in Liverpool