Liverpool Theatre News & Reviews
REVIEW - Priscilla Queen Of The Desert - The perfect tonic we all need right now!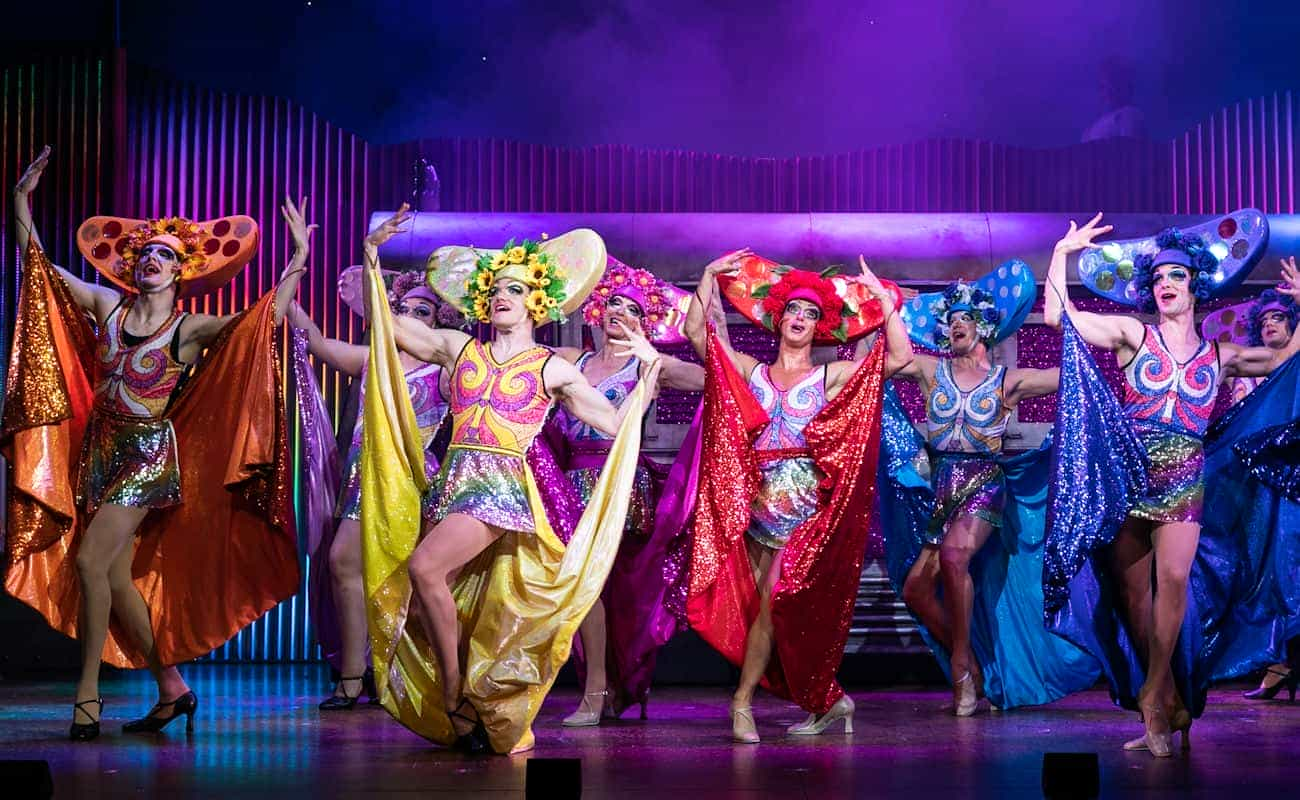 CLICK HERE FOR YOUR PRISCILLA TICKETS
One of our trusted reviewers, Karen Ryder, is still on a high after an amazing evening at the Palace Theatre as she attended Priscilla Queen Of The Desert on Monday. The fab musical runs until Saturday so if you want a memorable night out - book today!

Grab your glitter, shake your sparkles and fluff up that feather boa for Priscilla Queen Of The Desert is back in town!
The question on my lips was "How do you make this shimmering sensation of a show even more fabulous than previous tours?" Well I didn't think it humanly possible, but you add more glitter, more feathers, more ridiculously riotous rockin' costumes…….oh and you add Jason Donovan as a producer of course!! I mean come on! Boxes ticked in every glorious colour of the rainbow thank you very much.
So, after a stinker of a day where I fought my laptop (and my laptop won), I set off in my glitterball top ready to let the joy of this show wash over my "IP address / VPN / whatever other new technical words I've learnt today" brain. As suspected, all I really needed to fix my stress was, (to quote the show), "A cock in a frock on a rock!"
Priscilla just keeps getting better and better. Its continuous catchy dance floor fillers allow your brain to tune out not only your day but the last 18 months or so. You are swept away by the familiar disco tunes and find yourself shimmying along with the best of them. "I love the night life", "Don't leave me this way", and everyone's favourite karaoke belter "I will survive," are just the tip of the iceberg and my personal favourite, "We belong" sums up the shows underlying genuine message about acceptance. The show has a strong story which is not to be ignored, but let's just stop and know it's also ok to simply bop to the beat and have fun. Priscilla provides that unashamedly. This is fast becoming one of my favourite shows and I think the audience agreed as the energy filled the room, the applause started and everyone joined in clapping and cheering from the second the overture started.
If you have no idea who or what Priscilla is - she is a camper van who makes an epic journey across Australia, carrying three friends to Alice Springs where they are booked to do a drag show extravaganza. However, the journey across Australia throws up more than the trio bargained for including prejudice, assault, death, acceptance, self-discovery, hope and love. The destination provides more than their drag show too when we watch the most beautiful love story unfold between father and son. The simplicity of this scene against the backdrop of a flamboyant drag lifestyle is truly heart-warming and the innocence of love simply being love that shines out of the child, holds a promise for a brighter, more tolerant future. There are so many moments of poignancy set against a glittery high heeled kick and splits that the show not only has the full fun factor, it also has depth and meaning. The use of an extended silence following a high-powered dance routine in which the audience are merrily clapping along, makes the prejudiced abuse that immediately follows a powerful kick of a different kind. A simple line at this point really stopped me in my tracks.
"I thought they loved us?"
"Only till sunrise."
The three friends onboard Priscilla are Bernadette played by Miles Western, Tick / Mitzi played by Edwin Ray and Adam / Felicia played by Nick Hayes. All three actors portraying these parts are seasoned theatre professionals and it shows. The chemistry between the three of them is perfect and they switch with ease from throwing shade to care giving as the story demands. Nick Hayes has the biggest emotional rollercoaster playing Felicia and he is truly mesmerising, giving me goosebumps on several occasions. His rendition of Kylie's "Confide in me" is striking and shows exactly what he is capable of. The trio working together provide some cracking harmonies, such as True Colours and We Belong. Simply stunning.
I've said it before and I'll say it again, Priscilla is a tonic of the best kind. I seriously haven't stopped smiling. It is a joyous toe tapping, hip swivelling, sparkly sensation and has some of the best one liners ever, so get yourself down to the Cock a Two club, make sure you don't sit in the splash zone (or do – what ever takes your fancy I suppose) and enjoy yourself…………..every version of yourself……..and just celebrate the brilliance of live theatre!
Thank you Priscilla. You were exactly what I needed after the not so great a start to my day. In fact – as of tonight I shall shun all tech language and replace it with my own Priscilla inspired terminology. So, for all you tech lovers out there, let it be known that if I ask for an IP address, I'm asking for the location of the next tour stop for the Incredible Priscilla and if I reference a VPN, I am clearly talking about the only acronym that makes any sense – VISIT PRISCILLA NOW!!
PS – How on earth do they do their make up so fast?!!!!!

We score Priscilla - 10/10!!!

Priscilla Queen of The Desert is on at the Palace Theatre until Saturday.

CLICK HERE TO BUY PRISCILLA TICKETS