Liverpool Theatre News & Reviews
REVIEW - A new and wonderful experience for all Grease fans - Highly recommended!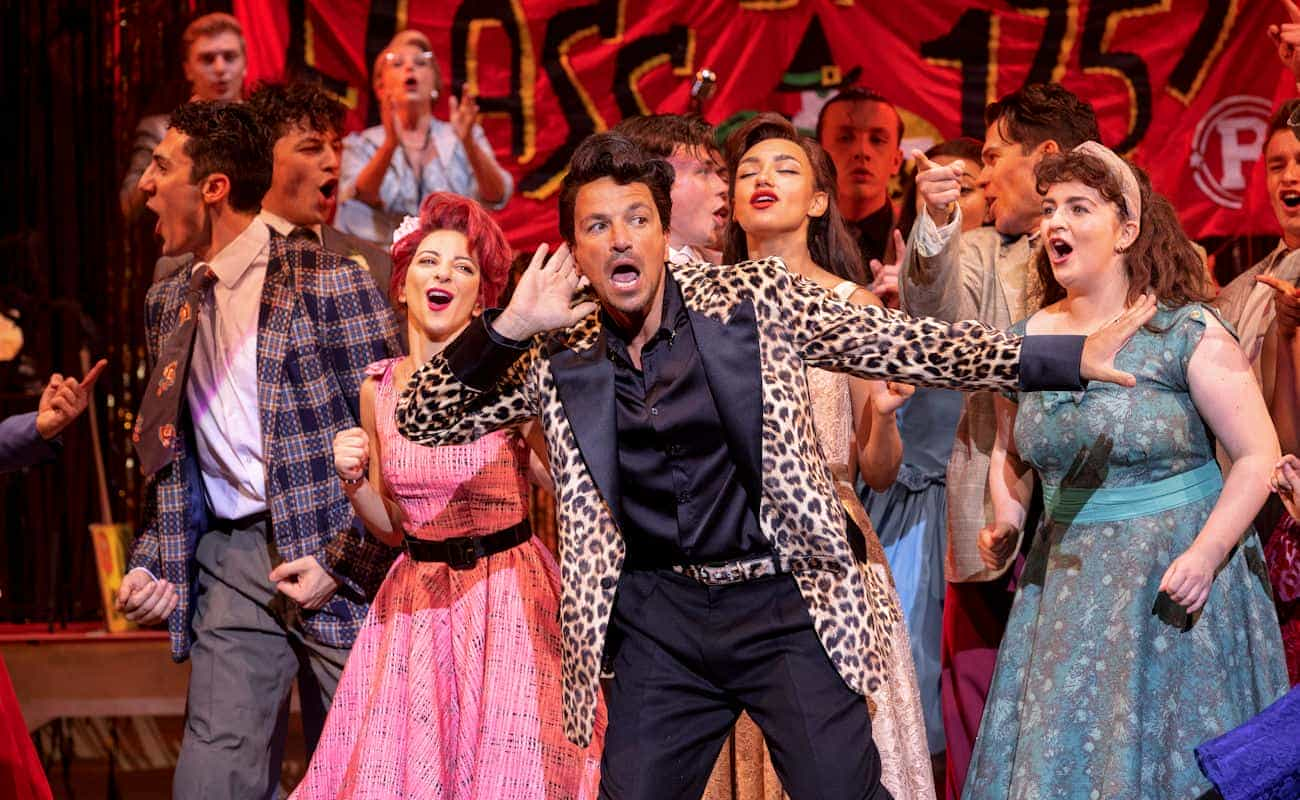 BUY YOUR GREASE TICKETS HERE
One of our trusted reviewers, Karen Ryder, bopped away to Grease at the Manchester Opera House on Tuesday. The new look musical runs until Saturday 23rd October. If you love Grease, don't miss this one...


"Rama lama lama ka dinga da dinga dong
Shoo-bop sha wadda wadda yippity boom de boom
Chang chang changitty chang sha-bop
Dip da-dip da-dip doo-wop da doo-bee doo
Boogedy boogedy boogedy boogedy
Shoo-be doo-wop she-bop
Sha-na-na-na-na-na-na-na yippity dip de doom
A Wop ba-ba lu-mop and wop bam boom!"
If any of that made any sense to you whatsoever then grab your comb, your hair gel, and your 1950's attitude because you'll understand that Grease is back in town! And make no mistake, those Rydell high kids mean business.
Have I seen the film before? Errr – only about a squillion times! Have I seen the stage musical before? Why yes, just a few times…………am I bored of it? Absolutely not! Would I go again tomorrow night! You bet your Summer Nights I would because not only is this a brand new production to the ones I've seen before, I'm also Hopelessly Devoted to Grease! It's The One That I Want! Grease Is The Word! And, We Go Together! OK, OK I know that was cheesy but don't judge me. After all, There Are Worse Things I Could Do! Sorry. I promise I'm done!
For those of you that are totally unaware (does this person even exist?), Grease tells the classic story of high school boy meets high school girl. Set in 1950's America, we get all the fabulous rock n' roll settings, fashion and references you could want. Danny and Sandy have a rocky road to love. Fuelled by their different backgrounds, Danny's over riding desire to be cool, their friends interference and the crazy ups and downs of the Pink Ladies and the Burger Palace Boys (aka The T-Birds) who "rule the school," their classic love story is followed in all it's teenage angst glory. Of course, it proves too much for their relationship to survive so something has to change………cue the famous black jumpsuit, red shoes (or in this case black converse trainers), back combed hair and the infamous line – "Tell me about it, stud."
The stage version of Grease is based on the original Broadway script rather than the movie so there are some subtle changes – even if you have seen this stage show before, which I have, it will come as a complete surprise because there are numerous changes. Songs such as "Mooning," "Freddy My Love," and the brilliant "Those Magic Changes," which take a background seat in the film are given the credit they deserve on stage. They allow for the insanely talented cast to unleash their triple threat skills for all to see. I love that the stage version digs deeper into the secondary characters, giving each their moment in the spotlight and making them more memorable than the film, where we have all been guilty of naming the T-Birds as Danny, Kenickie, and the other three (Doody, Sonny and Putzie). This production of Grease is also home to songs that aren't in the film or the previous stage revivals, such as "Tattoo Song" and "How Big I'm Gonna Be." Even though the story was obviously so familiar, it was also a wonderfully new experience, one I wasn't expecting, and one I'm glad I gained.

So let's talk a little about the insanely talented cast. Of course we have to go straight to the big name in the show – Peter Andre. He gained a huge audience response from his first moment on stage where he is clearly so at home, so in control of the crowd, so smooth, sleek and cheesy as hell – all of which his character demanded of him and all of which I loved. He doubled up as Vince Fontaine and the Teen Angel. As Vince Fontaine, he was able to showcase his dance moves and comic timing whilst as Teen Angel he truly let his vocals rip and was so much more than the teentastic pop star some may have expected. Sandy was played by the shows understudy Ellie Kingdon and she was amazing. After that performance, Ellie surely only has leading roles in her future. Her rendition of Hopelessly Devoted and the Sandra Dee reprise were spine tingling. Dan Partridge played Danny Zuko and he was everything you'd want Danny to be – charismatic, tough, gentle, funny and engaging. The entire cast was flawless and was such a huge ensemble, I could write a full review on each of them alone, but I need to leave you time to go and buy tickets for the show - so I won't.
I have to mention the choreography by Arlene Phillips though, widely known as a judge on Strictly Come Dancing, for it was innovative, modern and made me feel out of breath just watching it. The routine in Greased Lightening may not have been the classic dance moves I was expecting but I honestly didn't care, for the percussion inspired dance on the tin barrels was incredible. The full cast dancing to Hand Jive had me literally bouncing in my seat and the We Go Together Reprise roused the audience to their feet to join in the Megamix, where I literally broke the heel of my boot booging away! It was the perfect ending for the audience truly became a part of the show and it allowed us all to finally become a Rydell High graduate and cast member.

The creative team were clearly the dream team too for the set was just shewifchkhifwoufhc – and that's not a typo - I simply can't find enough positive words! It made me want to jump on stage because it truly transported me. For Summer Nights there was somehow a gymnasium, the bleachers, the canteen, and the lockers all on stage at the same time without it being crowded, confusing or unbelievable. The lighting was genius, with the use of projections enhancing the set and also a pulsating red ring of echo lights to represent a broadcast whenever Vince Fontaine was on air. So clever.
Grease is everything I wanted it to be and then some more. It's no wonder this show has a cult following and that it's script can be quoted, referenced and understood without even mentioning the word Grease. Whether it's the dance moves, the characters, the songs, the one liners or the culture references that attract people year after year to this uplifting, classic show, people will be imitating it for years to come. We have all tried to bust a move like John Travolta, seen ourselves reflected in one of the characters, wished we were more like a different character, wanted to live in a 1950's diner eating burgers, fries and sipping our milkshakes. It's an idolised dream of a bygone era and you feel so much cooler just by watching it. Every kid I knew growing up will have said at least once, "That's my name – don't wear it out," or "You're cruisin' for a bruisin'." They will have curled their lip, bent their knees and shimmied to Grease Lightening at a family party. They will have spent their entire weekends learning all the lines to the film and screaming at Sandy that she doesn't have to change just to get a man……………..no?? Only me? Well, judging by a large number of the audience who not only sang along to every popular lyric but mouthed along to half the script too, I guess I'm not on my own after all. Grease is the perfect nostalgia for my childhood, my teens, my adulthood and for a time I haven't even lived in but wish I could have experienced. So, head on down to Rydell High via the Manchester Opera House and remember, "It doesn't matter if you win or lose, it's what you do with your dancin' shoes!"

WE SCORE GREASE - 10/10!!!

Grease is currently showing at the Manchester Opera House until Sat 23 Oct. Buy your tickets here.