The King of Nothing - A Puppet Musical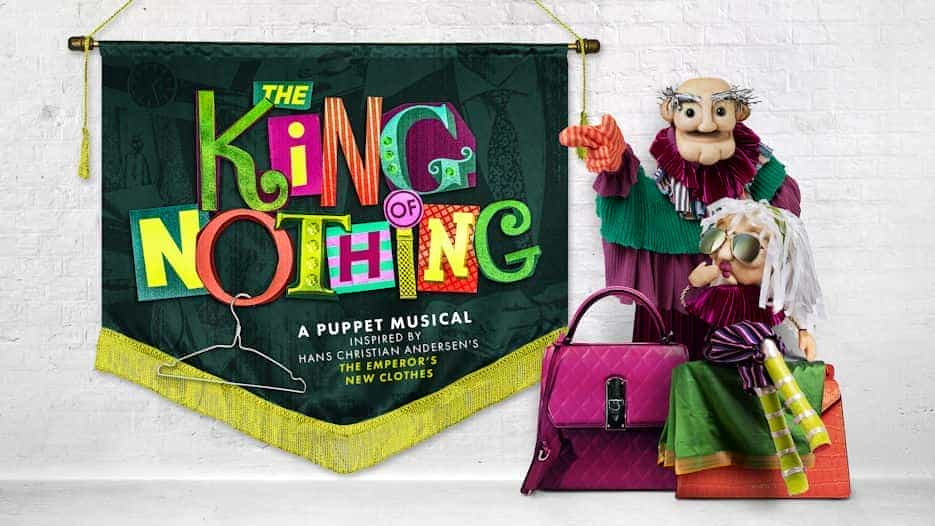 MONSTRO Theatre and Little Angel's latest Puppet Musical is an anarchic re-telling of Hans Christian Andersen's Emperor's New Clothes, in which the characters (and the audience) discover that people can be made to believe ANYTHING. With songs, puppetry, slapstick and more, the two Swindlers (or should we call them "actors"?) will weave their cunning magic on children and adults alike...
King Reginald, ruler of the Kingdom of Fa La La, likes to keep in style. Closely advised by Bernard the Keeper of the Royal Cardigans and Dolores the Keeper of the Royal Trousers, he is always dressed top to toe in the latest clothes from the latest magazines. Meanwhile, Fa La La is in total disarray, with blocked drains and beggars lining the streets...
Hearing of Reginald's love of fashion, two fast-talking Swindlers (or should we call them "Weavers"?) make their way to the palace, bringing news of a brand new fabric: it's "smart" and it's "in" and it's just what the King needs to make sure he's always ahead of the fashion game. The King pays them to make his brand-new outfit for the Big Parade, and soon news of this magical cloth and its amazing properties spreads through the kingdom... But as the day of the King's Big Parade approaches, he begins to wonder if this wonderful fabric – and its "weavers" – are quite what they seemed…
..
The King of Nothing - A Puppet Musical Tickets
Chester
Chester
Storyhouse
Sun 8 Oct 2023
Other events you may like...
How to get to the Storyhouse, Chester
Most Popular Shows and Events in Liverpool