Heathers the Musical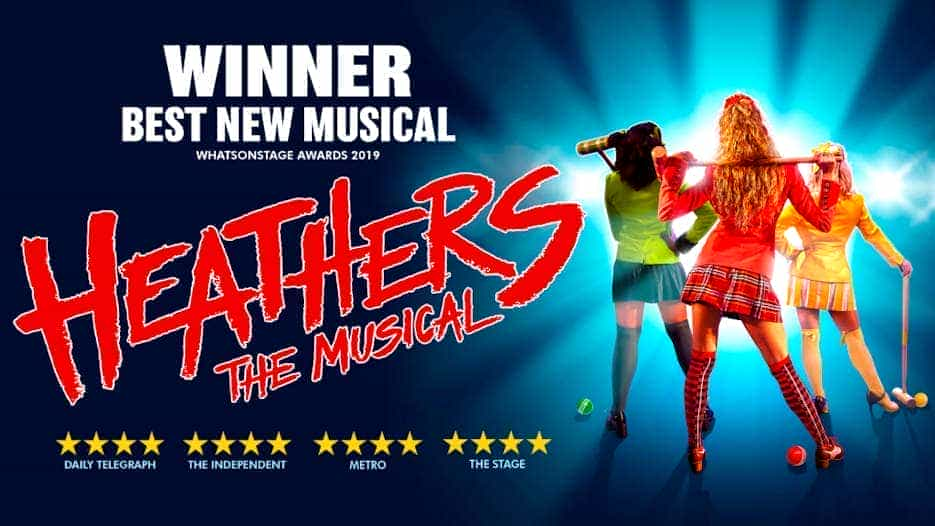 Following two smash hit West End seasons, a record-breaking run at The Other Palace and winning the WhatsOnStage award for BEST NEW MUSICAL, Heathers The Musical, the black comedy rock musical based on the eponymous 1988 film, embarks on a new national tour.

Westerberg High's Veronica Sawyer is just another nobody dreaming of a better day. But when she joins the beautiful and impossibly cruel Heathers and her dreams of popularity may finally come true, mysterious teen rebel JD teaches her that it might kill to be a nobody, but it is murder being a somebody.



Heathers the Musical Tickets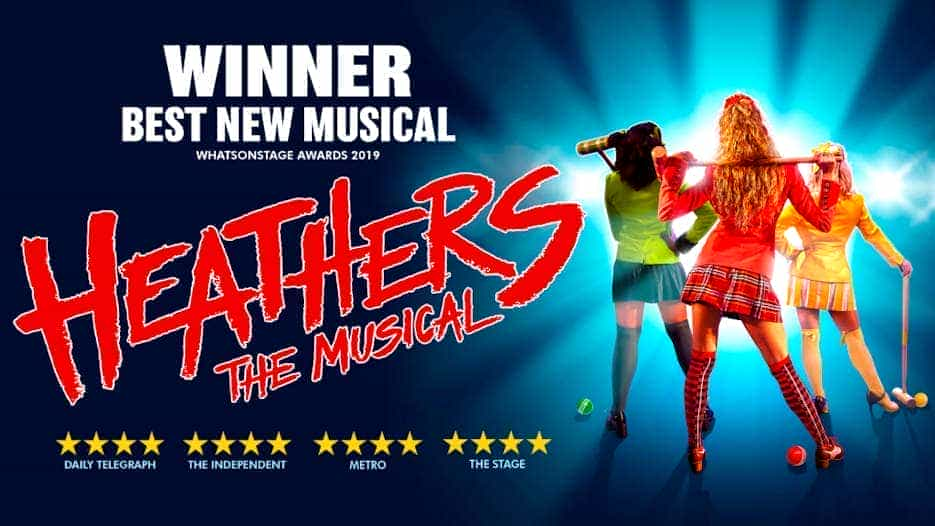 Sorry, there are no tickets for Heathers the Musical in Liverpool available at the moment. This maybe due to one of the following reasons:
- Heathers the Musical in Liverpool tickets are currently not on sale.
- The event has sold out.
- Details have not yet been announced for Heathers the Musical in Liverpool.
- The event may have been cancelled.
- The event has been and gone.
Join our free mailing list for
updates about this event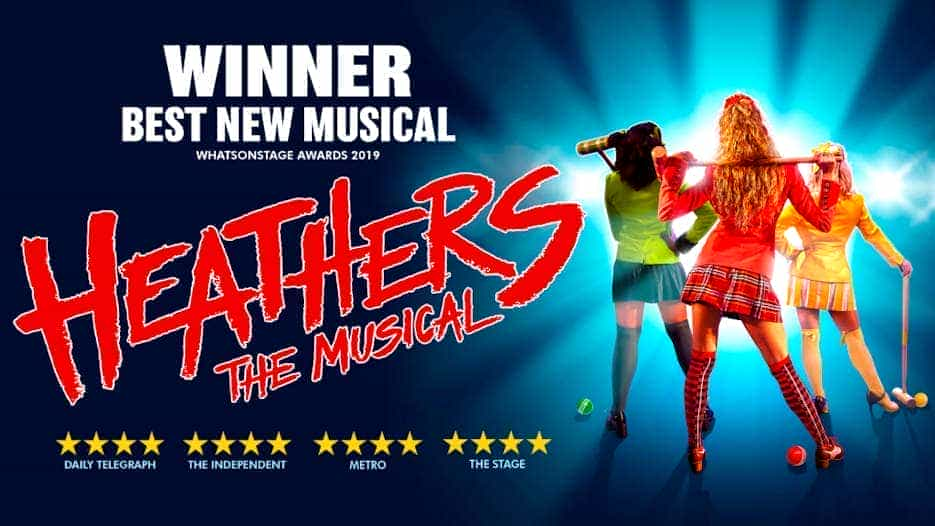 Heathers the Musical ON TOUR
Our review on Heathers the Musical
Heathers The Musical - Palace Theatre, Manchester - Tuesday 8th August 2023 by Karen Ryder
Our Rating
GRAB YOUR CROQUET STICKS, SHARPEN YOUR TONGUE AND SPRUCE UP AN OLD BLAZER FOR HEATHERS THE MUSICAL IS BACK IN TOWN!

This is a show with a dedicated set of fans whose enthusiasm fills the theatre with a certain kind of anticipation, and they do not leave disappointed. Having seen the show once before, I thought I was prepared for Heathers mania, but nope! I was bowled over yet again by the electric atmosphere, which is entirely contagious and will have you whooping and cheering along whether you're 17, 70 or undecided and lying about your age. No one will care, for despite the mean girl trio, this is actually a show about learning tolerance and acceptance. Well, ok – that's just part of it, as it packs a punch with many themes throughout, but everything it touches is done with a clever, indescribable, dark and unique sense of humour, meaning pretty much nothing is of limits.


On the surface, Heathers may appear to be just another teen story of mean girls ruling the school whilst the other kids hang on their every word, terrified to make a wrong move and be doomed to the cortex of a high school tornado. But whilst other stories may leave it there, Heathers delves much deeper and manages to incorporate suicide, bullying, assault, sexuality and acceptance. However, neither is this a teenage drama, so mix this altogether, throw in a sense of humour that operates at break neck speed and is not for the easily offended, then you might just about be getting close to the unique phenomenon that has this audience whipped up into a frenzy. The Heathers are three teenagers who are the most popular, and most feared girls in their school. Heathers Chandler, Duke, and McNamara are about to be given detention when the unpopular Veronica saves their bacon by forging a hall pass. All she asks in return is to sit at their table, but they decide to allow her into their group in return for more forged letters, passes and homework. Veronica is breezing through high school for the first time ever, despite her reservations, then she meets the new kid – J.D. He is deep, brooding, and intense, and when he beats up the two jock kids Ram and Kurt, who were giving her a hard time, little does she know that her future has just been rewritten. As Veronica and J.D become close, she learns he has a dark side, a side that she unwittingly becomes embroiled in. Heather Chandler is the first to learn just how deep J.D's darkness burns, but as death breeds a temporary tolerance and a desire for attention, things quickly spiral out of control and Veronica learns that having a blast in high school, means something else entirely with J.D around.


Heathers has grit, depth and a darkness that is explored through its harsh yet hilarious brand of humour. With lines such as 'the lipstick Gestapo,' 'F**k me gently with a chainsaw' or 'I'm on the bus again because all my rides to school are dead!' you never quite know what vicious quip is ready to roll off the tongue. It's brutal but it's brilliant. And it lends its followers the tricky question of, "Who is your favourite Heather?" With distinctive outfits, they are easy to emulate, as many audience members did. But then again, each character in this show is given a chance to shine, so maybe your favourite character isn't a Heather at all, but Veronica, J.D, or maybe even Martha, Veronica's true best friend. This is actually one of the shows strengths. Every character is given a moment to shine, with solo's, fantastic one liners, and a genuine strength in working as an ensemble cast. The detail each cast member provides is quite simply outstanding. Freeze frames, slow motion, ad-libbing, facial expressions, each element is jam packed with nuances in every corner of the stage. During one freeze frame – a frozen punch to the face between J.D (Jacob Fowler) and Ram (Morgan Jackson), Jackson seemingly froze in entirety and didn't blink at all. Meanwhile, you have snippets of genius taking place between cast members such as Liam Dean and Maeve Byrne or Heather Duke (Elise Zavou) telling a petrified class mate (Eliza Bowden) to chill out and smile during a school assembly TV broadcast. This cast know their stuff, and then some.


Jenna Innes (Les Mis) displays a dry sense of humour with ease as Veronica, and convincingly switches from sarcasm, to fear, to love in a heartbeat. She is a strong lead, giving a voice to anyone who feels they don't quite fit in. Jacob Fowler (Rodgers & Hammerstein Cinderella) is brilliantly warped and intense as J.D. He starts out as the mysterious stranger but is able to take his character on quite the transformation in a short space of time. He plays it cool and calm which makes for an even more disturbed result. Verity Thompson (Old Friends) is our chief Heather, Heather Candler. Her comic timing and delivery of lines is so spot on that it leaves you in that conundrum of laughing at the stuff you're not supposed to laugh at in real life, and even though she is the mean girl, you can't help but admire her tenacity. She most definitely has a stage presence that draws your eye every time she is on stage. Elise Zavou (Red Riding Hood) is our Heather Duke, and again we see a fabulous transformation from follower to fearsome leader and head Heather. She knows how to command an audience. Billie Bowman (But I'm A Cheerleader) plays her humour is a totally different way as Heather McNamara, and offers up a naivety that allows us to laugh at her antics. Even her timing of spitting out tablets is not to be under estimated, and was done just right. She also gave a thoroughly emotive and incredible performance of her solo Lifeboat. Alex Woodward and Morgan Jackson were a brilliant comedic duo as Kurt and Ram, bouncing off each other – quite literally – with excellent partner work. The entire cast was irresistible and my lack of mentioning each and every one is meant as no disrespect, but to stop myself from gushing.


There are strong themes and adult references throughout the show, giving it a 14+ age guidance, and I think this is wise. Heathers raises tough issues that are openly discussed and explored through a sharp humour. But this is why it has such a cult following of teenagers, because it doesn't shy away from, or downplay the subjects at hand. It doesn't patronise and allows the topics to be explored in a way that is approachable and comfortable, and I know first hand that it has opened up the opportunity for young people to freely discuss such things that are difficult to broach. It is a truly clever show. You bathe in the glory of the sassy, fierce and complex characters. You soak up the memorable songs and bop along with the dances, revelling in the infamous Heather poses. You stop dead in your tracks at the cutting reality behind the laughter, and struggle through the intense scenes of suicide, homophobia, and date rape, before howling with laughter again as Ram and Kurt slide around the stage in little more than a pair of socks, or as the choreography is hammed up for comedic purposes. This is an audience reaction like no other, and with opportunity to join in and cheer along, or become Ms. Flemings ex boyfriend (be careful where you sit,) even the cast looked humbled by the out pouring of love from the Palace Theatre audience tonight. The character clique of Heathers Chandler, Duke and McNamara may be about excluding anyone they don't deem popular enough, but the beauty of them is that they have created an end result of inclusivity, and a theatre full of beautiful.
WE SCORE HEATHERS THE MUSICAL...





WATCH OUR "IN CONVERSATION WITH LIAM DEAN DISCUSSING THE SHOW" VIDEO

Our review on Heathers the Musical
Heathers The Musical - Palace Theatre, Manchester - Tuesday 5th October 2021 by Karen Ryder
Our Rating
"How very!"

If you know Heathers, then you know.

Well I didn't know Heathers, but now I do and I'm so glad I do, so "How very", it is.

Heathers is affected, unexpected and perfectly perfected. It was obvious from way before the show even began that it had a strong following as audience members were dressed up like the girls on the poster outside the theatre. It was even clearer when only one chord was struck and the audience went wild – and just to make sure I was in no doubt, when the Heathers appeared (3 "mean girl" type figures all called Heather) the audience went insane. It definitely felt like I had arrived late to a party where everyone knew each other but it was a party I absolutely wanted to stay at and have someone buy me a drink – though not a blue one! (again if you know, then you know).
Heathers is a tricky little paradox of a story. It is like several teen movies all mixed together, (such as Mean Girls, The Breakfast Club, Clueless) – yet it is nothing like them at all for Heathers serves its punches with a little bit of poison. Actually, it is based on its own film, which I haven't seen either but apparently starred Winona Ryder and Christian Slater. So why is it a paradox? Well it follows the teen movie rules – girl (Veronica) feels like a geek at high school and wants to be popular (be a Heather), girl finds a way to get in with the populars, girl then meets boy, girl has to ditch old geeky best friend to remain popular, girl eventually sees the light and reverts back to her true self……..you get the picture.
However, Heathers has a dark edge to it, a little bit of grit and depth that isn't your typical high school story at all. It takes its own path through the teen angst so for instance when boy meets girl, we see Veronica meet JD who actually turns out to be…….well a little bit unhinged to be perfectly honest and we see the potential of a future Bonnie and Clyde developing. Heathers deals with tough subjects throughout (suicide, bullying, assault, sexuality and acceptance to name a few) but it does so with a twist of comedy so it doesn't feel preachy, icky or twee. It's actually very clever and quite hard to describe its special nuances that make it's delivery stand out so I think you should just go and see for yourself because it really is brilliant.
It was exciting to realise that the cast are, in the majority, newbies. Some are even making their professional debut. It was shocking too because you would rank them up there with the seasoned stars. They were all insanely talented so watch out for the following names because these guys are stars. Rebecca Wickes plays Veronica with the perfect blend of geek to Heather to somewhere inbetween, belting out numbers like it's no effort whatsoever. Simon Gordon is engaging and scary as J.D. He is so convincing you actually feel sorry for him despite his, er………hobbies. Maddison Firth is fierce as Heather Chandler and gives an equally brilliant comic delivery as Veronica's conscience. Merryl Ansah is fabulous as Heather Duke, as is Lizzie Parker as Heather McNamara. Mhairi Angus plays Martha, Veronicas best friend and gives a complex blend of true emotion mixed with humour in her solo number. Liam Doyle and Rory Phelan are perfectly paired as the jock due Kurt and Ram, with hilarious comedic (and very athletic) delivery. Georgina Hagen, Andy Brady and Kurt Kansley complete the main cast – each playing multiple roles, each as convincing as the last.



The quick one liners are plentiful in Heathers and delivered with perfection, such as "I'd ask you what your problem was but you probably couldn't pronounce it". But the comedy isn't limited to one liners – the facial expressions used to let us in on what a character is truly feeling are genius and help move the story along. I particularly loved the attention to detail in a slow mo fight scene when the jocks had been punched. They somehow even got their lips and cheeks to wobble in slow motion from the after affects of a punch. Hilarious!

There are truly moving messages disguised with a bit of glitz and glamour, such as the song "Dead gay son". The audience reaction to the integration of the Pride flag and statements about acceptance and moving forwards not backwards, make it clear that the shows messages do come across, and are absolutely not lost in the toe tapping, hand clapping way they are delivered.
Honestly, this show is so clever. On the one hand I just want to embrace the fun of it and party to the amazing tunes it consistently throws out. But on the other hand, I work with teenagers, and I can't escape the topics that Heathers raises, the battles these teenagers face every day and how very real these things are to them. I've heard their fears and their troubles first hand so also applaud the show for handling these things in such a way that doesn't mock, doesn't belittle, doesn't preach and allows you to have fun whilst trying to understand. Then just as I'm watching and getting emotional, they send out Martha, Veronica's best friend, on a motorised scooter to break the tension. Heathers!! You're messing with my head! Do I laugh or cry? I guess both. Though the over riding feeling I'm leaving with is one of having an absolute blast (no pun intended – that will make sense when you go and watch it). It is most definitely a feel good show with a few lessons learnt along the way, and if you don't learn any lessons then you are definitely a Heather and not a Veronica.
WE SCORE HEATHERS THE MUSICAL - 9/10!!!
SPOILER ALERT:
Due to Manchester's recent history some may wish to know in advance that there is a simulation of a bomb explosion in the second half. It is in keeping with the story and is over very quickly. The tension is quickly broken with humour (unrelated to the bomb) so the humour is absolutely not in bad taste.
Most Popular Shows and Events in Liverpool