Liverpool Theatre News & Reviews
REVIEW - Will Young's performance in Song From Far Away is beautiful, honest and humble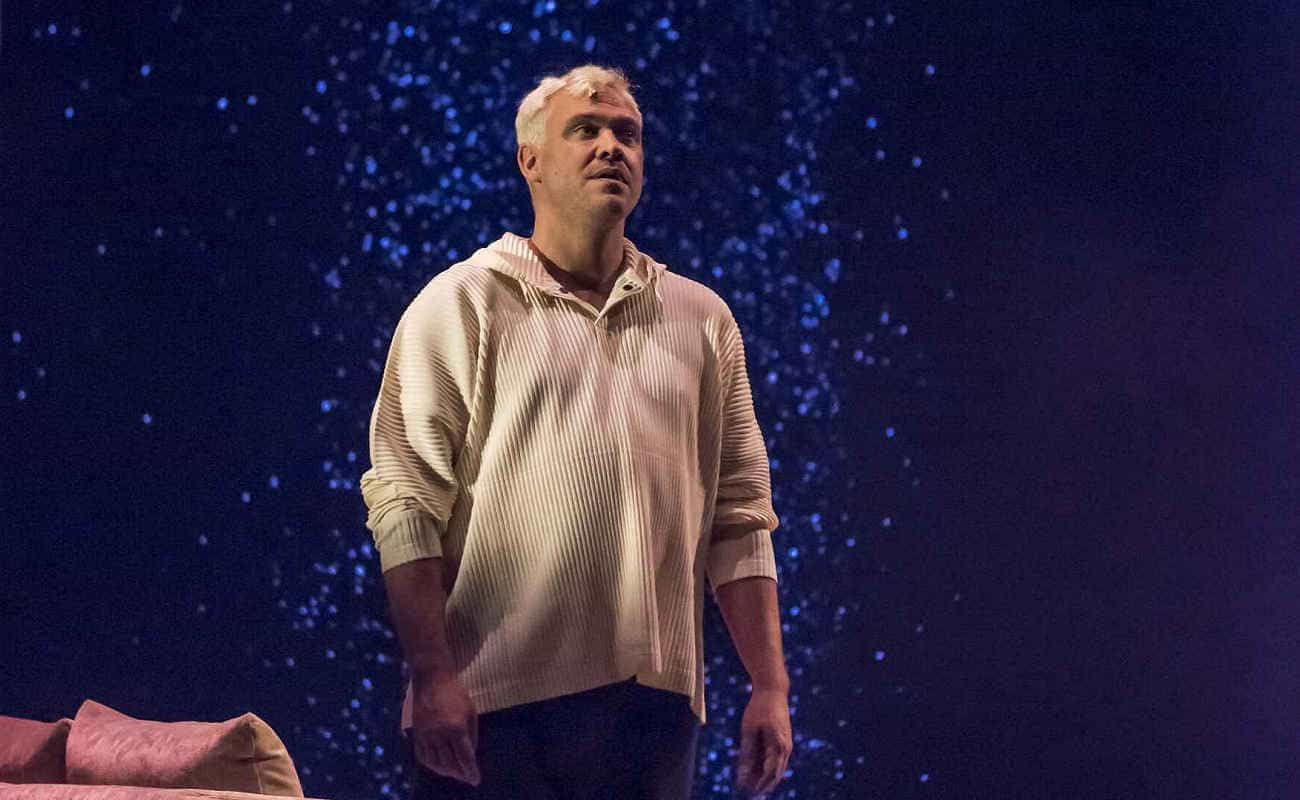 BOOK SONG FROM FAR AWAY TICKETS
On Saturday afternoon, we went to HOME in Manchester to see Song From Far Away. So what did our reviewer Karen Ryder think about the production starring Will Young?



Ever since Will Young graced our screens on Pop Idol in 2002, I have admired and respected him. I fell in love with that unique voice, went to his concerts, bought his CD's and books, and watched his Olivier nominated performance in Cabaret. There was no way I was ever going to miss his performance in Song From Far Away at Home, and I'm so glad I didn't.

Written by Simon Stephens and Mark Eitzel, Song From Far Away is a one person show in which the character Willem navigates his grief at the loss of his brother Pauli. Willem is an affluent New York businessman who finds himself back in his home city of Amsterdam surrounded by family yet feeling utterly alone. The play is set years after this event, enabling Willem to gift us his story by reading the letters he wrote to Pauli during that period. The letters are a beautifully personal way of Willem trying to stay connected with his brother, and the story starts on the day he received the devastating news of Pauli's passing. Through Willem, we learn not only about Pauli, but of the impact his passing has on Willem and his family. It reaches out to any of us who have ever lost someone, and reflects that confusing, guttural state of contradictions, conflict, and catharsis. Willem talks. He talks to Pauli through his letters and finds a way to be honest, to be vulnerable, and to try and find acceptance. We learn of his love and loathing of his home city, of how he finds humour in its own self-inflicted arrogance, and how he finds his new home – New York, entirely the same. We learn of his heartache at walking out on his ex, Issac, many years ago, and how he has never found anyone else he can allow himself to be that authentic with. We live through his complicated emotions towards his parents, sister, niece and nephew. We marvel at the innocent and unconditional love provided by his niece Anka, which throws his understanding of relationships entirely, but offers such exciting hope and possibility for Willem.


There were moments during this performance that I could have sat there crying endlessly at the poignancy, and the flashes of life reflecting art, or in this case art reflecting life. The parallel between Willem and Will Young in moments such as, "My brother died. I'm going to have to get used to saying that sentence out loud," were not lost on me, and my respect for his bravery doubled. Will Young's performance was sublime, and by the very nature of dealing with grief, covered a vast array of emotions. Yet not one of these emotions was faked, forced, or feeble. It was a beautifully, humble performance that always had a delightful undercurrent of a devilishly dry sense of humour. Willem was played with a wickedly impish spirit at wanting to cause havoc just because he could, but equally having private moments to reflect back on what this actually achieved. We were treated to moments of song from Will Young as a melodic motif grew with his ability to emote his grief, and again I could have wept. We all know Will Young can sing his socks off, but this was ethereal. Crystal clear and delicate, his voice threw angel dust onto your heart. Stunning. Will Young performed with such openness and honesty that the whole show was natural, real and you hung on his every word. He really knows how to make an audience listen, and I mean really listen, to pay attention and therefore make you question and think about some of the stunning ideas presented. We are always told to keep going, to push through because, "It'll be worth it in the end." But what if there is no end? Or what if you die before you get to the end? It genuinely made me consider life and recognise that yes, we may need end goals, but shouldn't we also do more of those 'end' things now? Because, what if the end never comes? I love it when a play, a performer and everything and everyone that bring it to fruition are so in tune that it has the power to impact your outlook in real life and alter things for the better. Life is happening. Now! At approximately 1 hour 20 minutes with no interval, it takes a very special solo performer to hold your attention. Will Young not only does that but leaves you feeling you could easily sit through a second act.


Simon Stephens and Mark Eitzel have not only written a beautiful play, but an honest, emotive, and funny play. They recognise that there can be light moments even in the darkness, yet honour this with grace and class. The letters are steeped in everyday humanity, giving the entire thing kudos and authenticity. This can be found in heartbreakingly glorious moments such as Willem telling Pauli all about his experience in business class at the airport, or the random Brazilian man he met in a bar and hooked up with. His relatable reactions to this, including his first thought the next morning, wondering whether he'd been robbed by him. The sudden hit of haphazard memories that flood your brain from nowhere, as Willem shares a tale of when Pauli was 12. Willems detachment at the funeral. His inability to see this is what he's doing until it's pointed out to him. His way of thinking he is a disappointment to his parents v's hearing they speak about him with endless pride when he's not there. The factual moments where we learn of the illness that took Pauli, and its impact on the entire family. The anger, the drinking, the cooking, the clearing out of personal objects. Grief and its painful, uncertain, uncomfortable process is laid out for all to see, for all to recognise, for all to take comfort in the familiar patterns and waves it takes us all through. By Simon Stephens and Mark Eitzel writing Song From Far Away through a series of letters that we know the recipient will never read, it allows for Willems story to be told with the kind of purity and honesty it could never have been told with if Willem had been left to tell us on his own. It is an extremely clever and therapeutic approach to storytelling and one we can all benefit from in our own worlds. Just write. Nobody ever has to read it but please, let your feelings out people. Director Kirk Jameson has done an exemplary job with this delicate subject matter and has allowed us to discover hope in the depths of grief. Hope that Willem can use this darkness as a catalyst for self-discovery and build a more content future.


The creative team are designer – Ingrid Hu, lighting - Jane Lalljee, sound – Julian Starr, musical supervisor – Paul Schofield, whose work fluidly combines to complete this piece of art. The set walls and ceiling move outwards and upwards to take us between Amsterdam and New York, hence the different states in time. Curtains blow gently in the breeze and move to show the movement between the different letters. It snows on stage, creating a nostalgic and gorgeous moment. Fireworks are stunningly depicted via a combination of sound, dry ice and an intricacy of clever lighting. A piano melody drifts in and out, building a little in intensity with each return. There were moments where the atmosphere created left me staring at the magical dry ice, swirling in mesmerising patterns, with an almost hypnotic quality. I came out feeling utterly relaxed, and I realise that this is because Song From Far Away is a strong and safe performance from all involved. You can watch as someone else works through the tricky emotions of grief, leaving the audience to absorb the lessons from the comfort of their chair.

Song From Far Away is a rare and superb piece of theatre. It has stayed with me, and I think it is a play I will keep taking from as the weeks go by and its messages subtly take hold. In the meantime, breathe in, breathe out. Breathe in, breathe out.


WE SCORE SONG FROM FAR AWAY...


Song From Far Away is on at HOME, Manchester until Saturday 11th March.


BOOK YOUR TICKETS FOR SONG FROM FAR AWAY


Photo credits - Chris Payne