Liverpool Theatre News & Reviews
REVIEW - Rocky Horror Show - A sensational, slick and simply stunning production!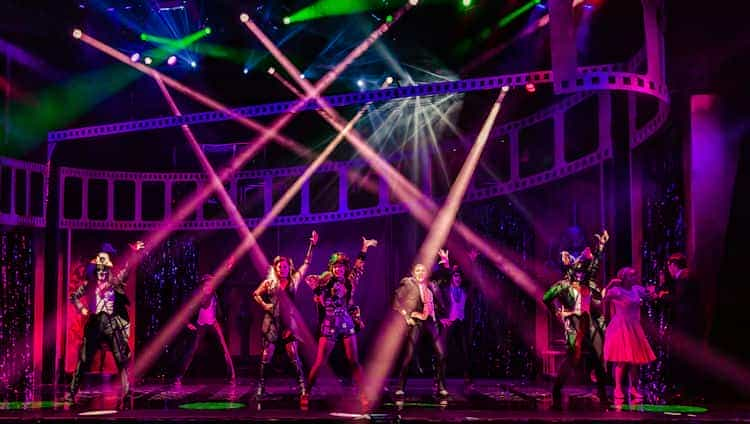 BOOK YOUR ROCKY HORROR SHOW TICKETS HERE!
One of our trusted reviewers, Karen Ryder, was one of the lucky ones who attending Rocky Horror Show at the Opera House on Tuesday. It's what we've all been missing over the last 18 months, but now we're proud to announce that theatre is back with a bang...

"Let's do the time warp again!"……and again and again because tonight's show was just sensational. I'm not sure how to write this review without sounding like an over excited teenager having just seen their favourite boy band because I'm gushing with superlatives, my ears are ringing, my heart is pounding and I'm full of adrenalin.
I was asked by a friend who had somehow lived a Rocky Horror Show free life, "What is it? And who is Rocky?" How to answer that question? How to prepare someone? My misplaced attempts at describing the show ranged from, "Rocky is a creature built by an alien from Transexual Transylvania who wears gold shorts and body glitter," to "It's panto for adults - on steroids!" and "It's the modern, more randy version of Frankenstein!" All my answers were met with the look of someone who thought I'd lost the plot, and so I stole my final answer directly from the show and said, "Don't dream it. Be it."



Well tonight's cast certainly made the dream of live theatre come true. This show has a huge following and ant…..ic…….ipation was clinging to every ounce of flesh that was on show from the audience before the curtain had even gone up. A huge cheer and round of applause greeted the audience member who dressed up as Frank N Furter as he entered the auditorium (for those who have yet to witness this, it involves a corset, suspenders, stockings and not much else). This audience were ready to party and have fun.
As the curtain rose to reveal the Usherette, the audience went wild, a mixture of finally being allowed out to play again and the pure love for all things Rocky Horror. It was theatre-oke. If you knew the words – you joined in, loud and proud. The Opera House was back in action and the audience was going make sure the whole of Manchester knew it.



I've seen Rocky Horror a few times over the years, but this cast and production was the slickest dream team yet. From the advertising, I knew that Ore Oduba was to play Brad but had no idea of further casting, so I was thrilled to find out that musical theatre legend Stephen Webb was Frank N Furter and the insanely talented Phillip Franks was to play the Narrator. Every cast member deserves recognition (Haley Flaherty, Joe Allen, Lauren Ingram, Suzie McAdam, Kristian Lavercombe, Ben Westhead, Darcy Finden, Reece Budin, Jordan Fox, Rachel Grundy, Danny Knott, Stefania Du Toit) for this was truly an ensemble piece. It was wonderful to read in the programme that some of these performers were being given their professional debut break in this production. A huge shout out to all the musicians and production team members too.
Ore Oduba has found his true home in musical theatre. He is engaging, sharp, witty and can sing and dance with the ease of the greats like Gene Kelly. Stephen Webb commands the stage with his mere presence and fits the role as perfectly as his hands fit his pink rubber gloves! Haley Flaherty is engagingly brilliant as the innocent / bad girl Janet. Phillip Franks has the audience eating out of the palm of his hands, and whilst it may seem that the audience has control as they shout out the numerous "prepared filthy and friendly heckles" or "script enhancements," depending on which way you choose to look at it (and believe me, in this show, it's all about which way you choose to look at it!) Phillip Franks is the one who is in control at all times. His come backs are current, hilarious, and add that extra special layer that Rocky Horror is known for. There was even a Boris Johnson impersonation and a playful insult thrown out to Jeremy Clarkson!



But be in no doubt, there is one more cast member in this production we haven't yet talked about – the audience. The audience have always played a vital role in the live Rocky Horror productions. It is expected, it is encouraged, and the show wouldn't be the same without it. As I said, I've seen this show a few times before but tonight there was plenty of new "audience additions" that I hadn't heard before. It's great to see an audience evolving with it's show, keeping it fresh and still loving it so much after all these years.
However, if you've never seen The Rocky Horror Show live before, fear not. This audience are friendly. They will welcome you as one of their own and get you through it until the sword of Damocles is no longer hanging over your head. Full disclosure though, it is dripping with innuendo, sexual references and a care free attitude so you may not want to watch it with your dear sweet Aunt Alice, (though never say never! Who knows what dear sweet Aunt Alice may have hidden away in her wardrobe!) It does come with a guidance of aged 12 plus and I'd agree this is a wise move.



Simply put, Rocky Horror show is packed with all the timeless classics we have come to know and love and is a guaranteed party night out, with sequins, feather boa's and dancing in the aisles. It's unapologetic. It's fierce. It's astounding………time is fleeting……….madness takes it's toll. And remember – it's just a jump to the left, and then a step to the ri..iii..iii…iyyyy.iiight! Let's do the time warp again!!!!! Well?? What are you waiting for?!

WE SCORE ROCKY HORROR SHOW - 10/10!!!


ROCKY HORROR SHOW IS ON AT THE OPERA HOUSE UNTIL SUNDAY 29TH AUGUST. CLICK HERE FOR TICKETS!