Liverpool Theatre News & Reviews
REVIEW - Jersey Boys is full of timeless tunes, beautiful storytelling and a slick production!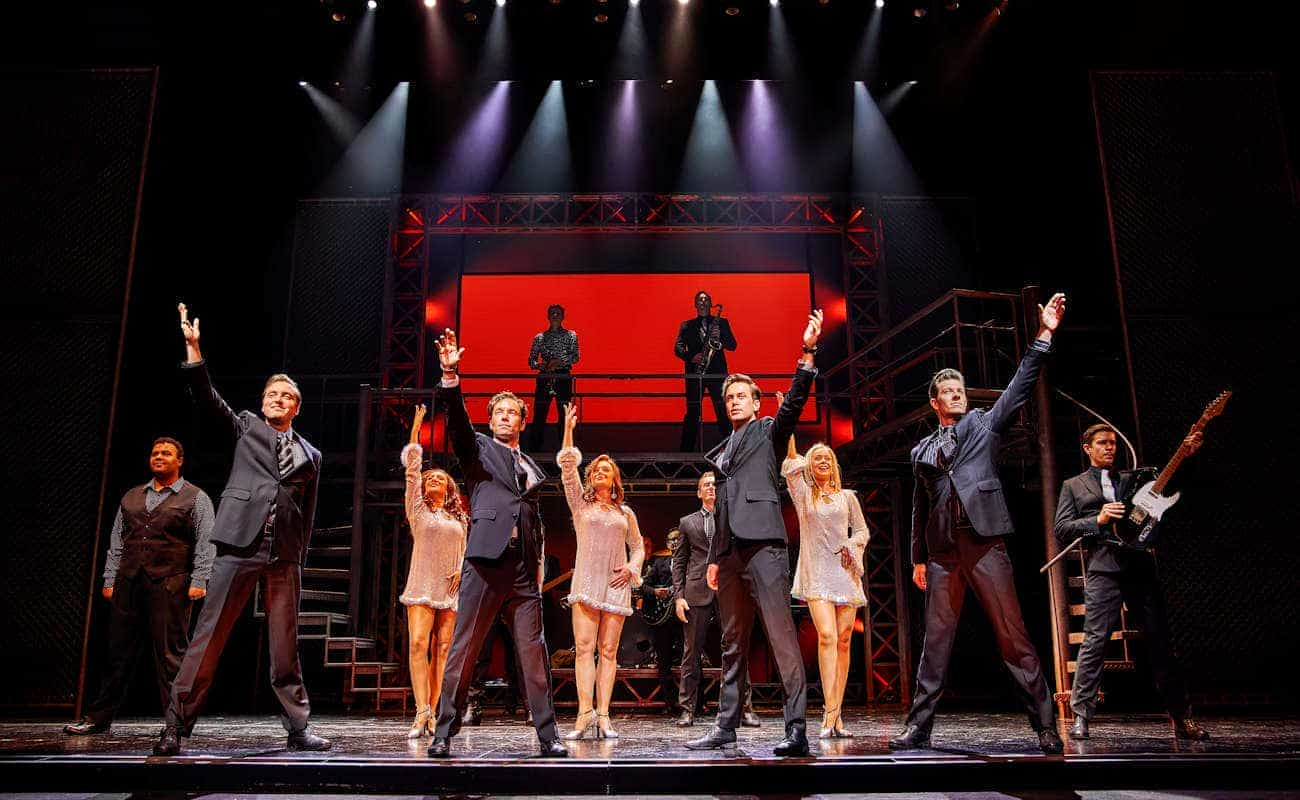 BOOK TICKETS TO SEE JERSEY BOYS
On Wednesday, we went to the Manchester Opera House to see Jersey Boys take centre stage. Read what our reviewer, Lizzie Johnston had to say about this must see production...


Jersey Boys has been around for years, and is many people's favourite musical. Despite all the publicity, I'd never seen it. Saying that, I already knew a lot of the songs - Can't Take My Eyes Off You is my go to karaoke song so I'm already a fan of the tunes! I'd heard so much hype that I went along to the performance with high expectations; this musical is a worldwide sensation after all, so I expected it to be great. Sat in the auditorium before the show started, I was chatting to the people sitting next to me and it turned out they hadn't seen the show either but had heard so many rave reviews, so it's clear there's now a level of expectation for any Jersey Boys first-timer. Throughout the evening, it became obvious that many people had seen the show several times, and now I can completely understand why.
Jersey Boys is a true-life phenomenon and takes you behind the music of Frankie Valli and The Four Seasons and uncovers the stories of the original four members. Taking them from just four New Jersey guys and following them as they become global stars in the Rock and Roll Hall of Fame. They had a sound like nobody had ever heard, and the radio couldn't get enough of it. Featuring their legendary hits, including Sherry, Big Girls Don't Cry, December, 1963 (Oh What a Night), and so many more. It's a true toe-tapper with recognisable tunes throughout.
Simply put, this show is brilliant! It's uplifting with hit after hit that'll have you smiling and swaying for the whole time. The musical arrangements are excellent, sticking to the true style and sound of The Four Seasons, and with so many artists covering their music, there's songs that everyone will recognise. Although, there is quite a bit of bad language so be aware that it's not quite one for the kids - but that's something I didn't mind at all.
The story is cleverly told with a great flow making it fast-paced but not to the point where you couldn't keep up, it meant there was never a dull moment or a drop in momentum. This was due to how the story was scripted with each member narrating a section of the show and bringing the audience into the story. I was completely hooked. This made it feel slightly different to a stereotypical musical as it had a different structure. The songs are all legitimately part of the story which made the transitions from the narration to the singing absolutely seamless.
The set was minimal with scaffolding around the back, almost as if it was a second stage, and which created a mezzanine floor. Little furniture was used and only brought on when needed to create certain environments, whether it was a dining table or a bar set up. There was no need for a busy set as the fast pace and constant movement quickly led through the story. The costumes and props were fabulous and straight away you could tell what era the story was set in.
Each cast member was excellent, in particular the four Jerseys boys. Their voices melted so beautifully to make the harmonies that are expected with this style of music and they were so in sync with each other when doing the signature dance moves. It was well rehearsed and not one foot was out of place. It was really satisfying to watch, all of the performances were clean and a completely different style from today's music scene.
Ryan Heenan (Back to the Future The Musical, The Boy in the Dress, Titanic) took us through the story that transformed Frankie Valli from a shy boy into a superstar. He did an impeccable job of mastering Valli's signature falsetto, and his portrayal of his showmanship and performance style was excellent. Valli had never seen himself as a singer and under the wing of Tommy DeVito, played by Dalton Wood (Carole - The Music of Carole King, Grease) he became the lead of the iconic group. Wood gave us all the ups and downs of DeVito, from being a confident businessman who believed in the group and pushed them towards success to the weaker man with money problems.
Blair Gibson (Jersey Boys, The Sorcerer's Apprentice, Game Night) was Bob Gaudio and Christopher Short (The Prince of Egypt, Anything Goes, Forever Plaid) played Nick Massi. Each member brought something unique to the group and all four had an incredible story to tell. The voices were the true standout for all the performers and it took the show from what could've been just a tribute act to a full Jersey Boys experience.
Jersey Boys deserves all the hype it gets. The audience were up on their feet dancing at the end and were just having a fantastic time, all the best indicators of an uplifting show. I know I won't be the only one who's singing the songs for the rest of the week.
It's brilliant from start to finish and worthy of all the rave reviews, making it a show that'll be around for many years to come. Full of timeless tunes, beautiful storytelling, and a slick production. A great, uplifting tribute to a unique band. If you haven't seen it, go, have a great night out and embrace the hype. If you have seen it, then go again - I certainly would!
WE SCORE JERSEY BOYS...





Jersey Boys is on at the Manchester Opera House until Saturday 29th October.