Liverpool Theatre News & Reviews
REVIEW - Casanova is Sophisticated, Suave, Sensual and Seductive - Simply Stunning!!!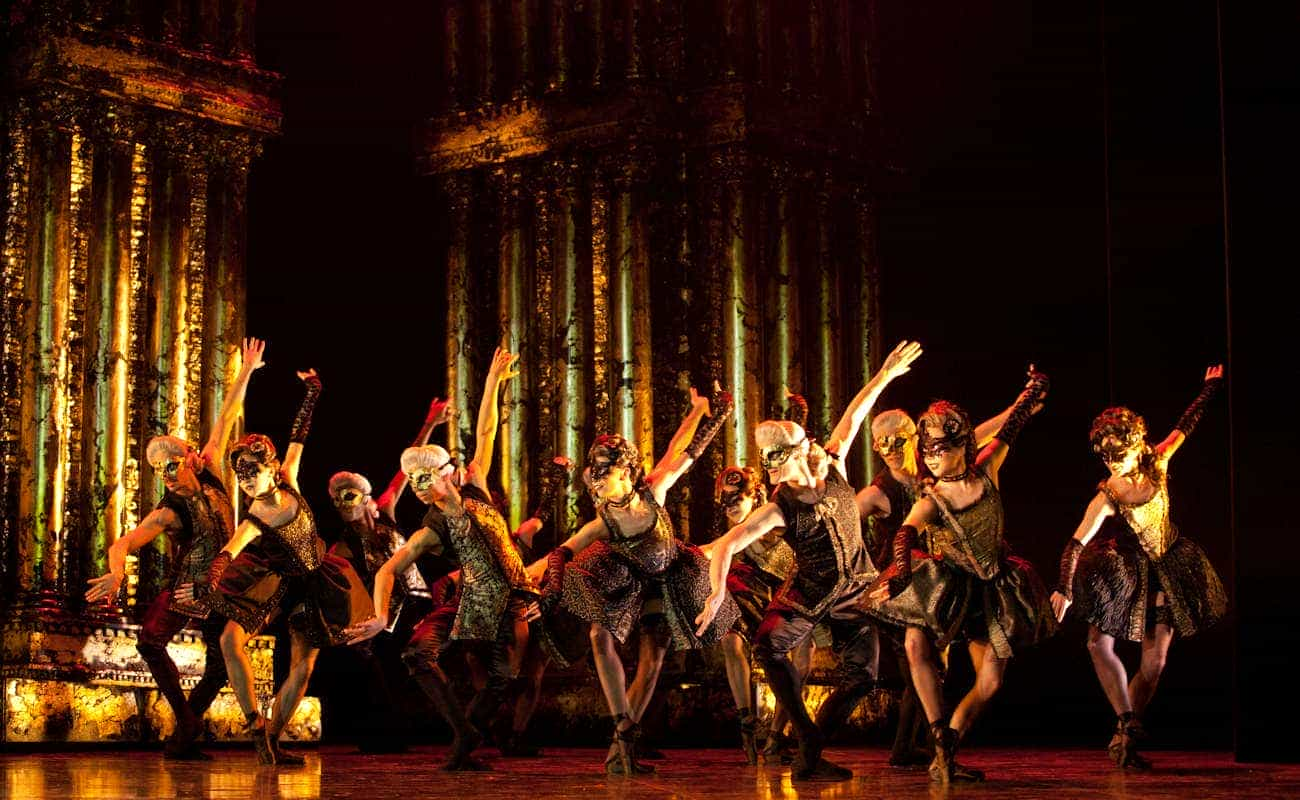 BOOK YOUR TICKETS TO SEE CASANOVA
On Wednesday, we visited The Lowry to see Northern Ballet's latest production. Read what our reviewer, Karen Ryder thought about the incredible Casanova...


You hear the name Casanova, and you immediately think love, seduction and a bit of the other! Tonight, the Northern Ballet definitely lived up to the name for they made their audience fall in love with and be seduced by dance as a storytelling art form (and gave us a bit of the other through beautifully stylised ballet). I've always been moved by dance, right from my first 'Good toes, naughty toes' ballet classes, and tonight's performance made me relish in the body's ability with a new respect. I was advised to have a little look ahead at the plot of Casanova, provided on The Northern Ballet's website, so that I could follow the performance with greater ease and enjoyment. This does help you appreciate the luminous expression that the dancers must deliver to tell a complex and lengthy narrative. Casanova has multiple plotlines that do not always intertwine with each other. It makes the story perfect for film, where scenes can visually show various storylines without confusion, so for a ballet to try and achieve this is phenomenal - and achieve it they do.


The story opens with a mass honouring the new Ambassador Barnis. Casanova is one of the clerics in attendance, though he arrives late after tutoring his pupils, the Savorgnan sisters. Whilst there, he is asked by Father Balbi to look after a book forbidden by the church. After mass, Casanova is found in a compromising position with the Savorgnan sisters, so he is immediately released from the church and leaves with nothing but his violin and the book given to him by Father Balbi. To make ends meet, Casanova joins an orchestra formed for Senator Bragadin's Masquerade Ball. The Senator takes a shine to Casanova, who is more intrigued by Balletti – the cellist in the orchestra - and they leave together. However, the pair are attacked by thieves and whilst Balletti escapes, Casanova does not. He is robbed and badly beaten, but they do not take the book. The Senator finds Casanova and takes him home to look after him, and well, to try and seduce him. But his plans are cut short when he instead suffers a stroke! Bad timing or what!
Casanova uses the forbidden to book to help save the Senators life, who is so grateful, he names him his heir. But there are people looking for this book, and this news does not go unnoticed by them. Things are made worse when Father Balbi admits, under torture, that it is Casanova who now has the forbidden book, so the Inquisition start to hunt him down. Casanova is handed a secret note advising him to go into hiding at Cardinals apartments. Once there, he discovers that this is actually nothing to do with the book and instead finds himself in some weird sexual game of voyeuristic seduction. Just as he's getting his jollies, the Senator turns up to warn him that the Inquisition are on their way. He tries to escape but fails and ends up in prison.
Act two sees Casanova working in a casino, where he boasts of his escape from prison. The wealthy Madame de Pompadour is intrigued by him and whisks him away to become his benefactor, (or sugar mummy- whichever term you prefer!) Rich, free and impetuous, Casanova sets about Paris to share the love! He throws a huge party where he reacquaints with a few blasts from the past and becomes intrigued by new friends and opportunities. As Casanova longs to be appreciated by the upper crust as more than sex on legs, he starts to write, but to much avail. He finds himself falling in love twice, first with Bellino and then with Henriette, a woman abused by her husband, who he tries to help. Through circumstance, he loses both women. Casanova is at a loss. He falls into a deep despair. All his past demons come back to haunt him and he questions his existence. Just as he is on the verge of no return, we see a single page flutter onto the stage, representing the moment when he is saved by his notion to write and share his story rather than be ashamed of it. As happier memories dance through his mind, we see the creation of his novel; History Of My Life.
The Northern Ballet are luckily known for being somewhat of a specialist when it comes to narrative dance, so you are in safe hands. They make this rather complicated and complex story flow, jump and leap right off the page. Even if you do struggle to follow the story, the performance is so breath takingly stunning that you are able to simply sit back and enjoy the dance for what it is. Principal dancer Joseph Taylor is athletic, elegant, and a more than convincing seducer as Casanova. It is utterly mesmerising to watch him bound endlessly around the stage with such grace, commitment, strength and stunning physique. He rarely leaves the stage and is captivating throughout. If he ever gives up dancing, I'm sure he could have a career change to long jumping or the hurdles because he just flew! His partner's work was equally remarkable. No matter who he partnered, his ease was palpable as he moved them around, lifted them and ran around the stage suspending them in air with such fluent poise and beauty. The energy of all the dancers is insane and their fitness level is incomparable. This ensemble is so delicate and stealthy, they barely make a sound upon landing their incredible leaps and jumps. Their synchronicity, flexibility and use of skidding across the stage with controlled perfection is astounding. Elsewhere, in the real world, I had to stop and catch my breath just by running from the carpark to the theatre and the only skidding I did was on the trail of water left by the open water swimmers of Salford Quays!
Ashley Dixon as Father Balbi was powerful in his torture scene, creating some incredible images and gut wrenching acting. Sean Bates was our lustful Senator Bragadin, and moved around the stage with perfect pomp and circumstance, insisting his will be met. This was matched by Heather Lehan as Madame de Pompadour. Sena Kitano is quick, light and playful as Manon Balletti, truly bringing a playful nature to dance. Saeka Shirai is incredibly moving and tragically beautifully as Henriette.

This was certainly an emotive and moving performance, and specific moments will stay with me. The scene where Father Balbi is being tortured packed a powerful punch. The ceiling was lowered, (a ceiling whose design created an incredible optical illusion), lights were cast from its edges to create the impression of walls. These were lit from behind and filled with dry ice. Dancers then appeared as atmospheric faces and hands grasping into the prison cell before they could be fully seen. They emerged from the mist and began their abstract torture. The duet between Casanova and Bellino (performed by Minju Kang) in the second half surpassed storytelling and simply took my heart. Sometimes we have no explanation as to why a particular sequence may move us so, but I didn't need an explanation. I simply enjoyed the moment for what it was – pure, exhilarating dance. The finale was outstanding and again I felt my heart bursting to explode with unadulterated emotion.
As Casanova struggles with his own tortured mind, flashes of his dark past hurl across the stage as he becomes undone. This is where you realise the importance and brilliance of the costume designs (Christopher Oram), for each character is so distinctly dressed, it is easy to follow the story re-enacted in Casanova's mind by their mere presence on stage. As he is inspired to write his life story, both good and bad, again the ghosts of his past are easily represented across the stage by their costumes. As the entire cast connect on stage, a blaze of dance, colour, costume, music, scenery and lights concludes this epic performance, and as pages from Casanova's book symbolically shower the stage, you are left with a feeling of hope, joy and amazement. A standing ovation and many curtain calls later, Casanova was complete.
Kerry Muzzey has created an incredibly emotive score for The Northern Ballet's Casanova which is brought to life by the harmonious talent of conductor Daniel Parkinson and The Northern Sinfonia Orchestra. The rousing, anthemic music enhanced and enlightened, with timpani echoing each tortured soul, tubular bells creating atmosphere and French horns encouraging your heart to sing. Christopher Oram (Frozen) has designed this show to be visually impressive, opulent and stunning. His inspiring use of basic columns, whose versatility compliment the story rather than further complicating it with continuous lavish set changes, allow the audience to understand the story rather than being overloaded. This means that the columns can take us from a church to a casino with a simple and efficient change of prop or set dressing. They continually surprise you with their secrets too and are decorated beautifully. They are capable of change, supporting powerful lighting designs and moving. Yes, I am still just talking about columns, but just wait till you see them! All I'm saying is, if Oram ever wants to decorate my house then he would be more than welcome!
The succulent and saucy choreography will have your heart pounding, your pulse racing and your temperature climbing throughout. But Kenneth Tindall provides so much more than the raunchy expectations with his choreography. He treats the seduction scenes with taste, class and expectation, whilst still maintaining heat and passion. Every dancer is clearly respected and allowed to shine, with every step having a purpose. They even dance the props and sets on and off stage with choreographed delight! Tables, chairs, violin bows and costumes are all a mere extension of the dance. Tindall's vision and construction is classical yet modern and the result is a beguiling and intriguingly genius piece of work. I'm thrilled he came on stage for his thoroughly deserved applause at the end. The creatives, complete with lighting design by Alastair West and wigs and make up by Richard Mawbey, combine to excel in their portrayal of this timely tale of sex and politics from the 18th century. Maybe this is because they expertly collaborated with Ian Kelly, Casanova's biographer.


I can't applaud dance enough. I despair and grunt at anyone who is willing to dismiss it as something light and fluffy. Are you kidding me?! It takes years of discipline, dedication, willpower, inner and physical strength, sacrifice, teamwork, rehearsals, missed social lives, injuries, shredded feet, aches, pains, blood, sweat and tears – and that's before you've even become a teenager!
This production is the perfect way to relax, be entertained, moved and astounded. The very name Casanova holds a multitude of expectation. The audience's expectations were not only met, but surpassed. It was a wonderful evening at The Lowry and though I now fancy myself as the next Darcey Bussell, and had every intention of making my way back to the car with a series of cabrioles', chassé's and ciseaux's, instead I tripped over my water bottle exiting my seat! I guess I'll stick to the YMCA and leave the beauty and grace to the wonderful Northern Ballet!
WE SCORE NORTHERN BALLET'S CASANOVA - 10/10


Casanova is on at The Lowry until Saturday 21st May.
IT'S TRULY A SHOW YOU DON'T WANT TO MISS!

BOOK YOUR TICKETS TO SEE NORTHERN BALLET'S CASANOVA