Liverpool Theatre News & Reviews
REVIEW - Bedknobs and Broomsticks - An epic, magical show you simply have to see!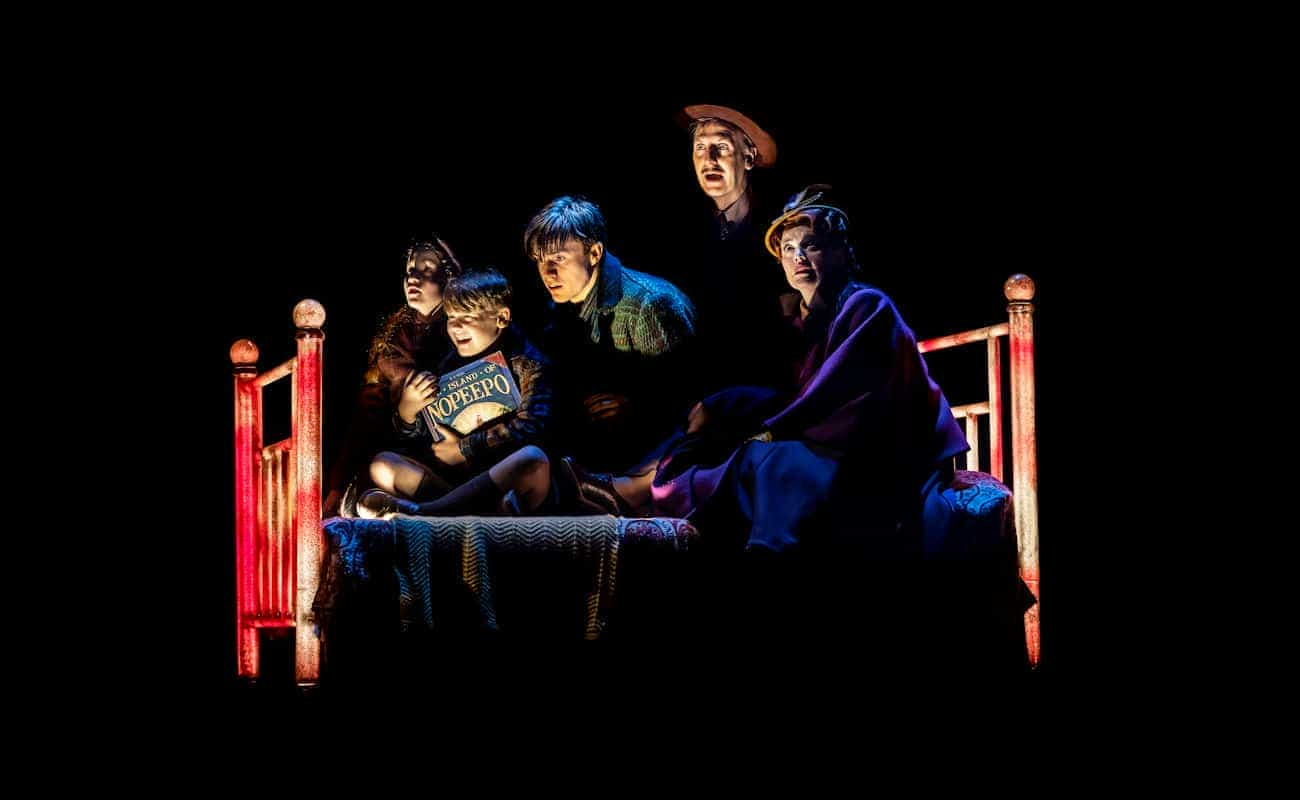 CLICK HERE FOR TICKETS FOR THIS MAGICAL FAMILY MUSICAL
One of our trusted reviewers, Karen Ryder, visited the Palace Theatre on Wednesday to see Disneys' Bedknobs and Broomsticks. I think it's fair to say, a magical evening was had be all...

I can't even begin to express how excited I was about tonight's show! The choice of my guest was obvious – my mum! Why? Because this was my go-to childhood film when I was poorly as it never failed to cheer me up and my mum would always snuggle up with me. This was the film that made me splash around a little too enthusiastically at bathtime singing "Bobbin' along," and this was the film that fed my hungry imagination, so I would spend endless hours sticking tennis balls on cardboard tubes and propping them up at the end of my bed to create my bedknobs. Once complete, my mum would be summoned and she would play Miss Price whilst I was Carrie, and my teddy bears played Charlie and Paul. This film holds a lot of happy and content nostalgia for me, and I am also in big need of a Disney fix because a little thing called covid meant I missed out on my holiday to Disney World. So to say I was excited is possibly an understatement of gigantic proportions!
The big question then is, was I let down? As if!!! This is Disney people! They know how to do epic. They know how to do illusion and they know how to create magic in all of us, regardless of age.

Bedknobs and Broomsticks is a story about magic, imagination, believing in the impossible, self-belief and family. We follow Charlie, Carrie and Paul on their journey from war torn London to the seemingly safe and dull countryside. However, with a little Step In The Right Direction and Negotiality, we soon learn that the children are in for a stay they will never forget. Upon meeting their new Guardian Miss Price, it doesn't take long for them to discover she is actually a witch (in training) but a witch with an important plan. When part of her spell is missing, she takes the children back to London in order to find her teacher Mr. Browne in the misguided hope that he can help. It turns out Mr. Browne is no magic teacher but a mere street entertainer and he ends up learning a thing or two from Miss Price instead. Still, between them all they discover that they make quite the team. They go to Mr. Browne's to find the missing spell book, but half the book is missing! This sets their journey in motion to The Land Of Nopeepo to obtain a necklace worn by their King – who just happens to be a lion! This necklace contains the missing magic words to complete Miss Prices magic and save England from defeat in the war. We meet numerous characters and challenges along the way, including talking fish, flying clothes, a dance competition and many many rabbits! And if all that isn't enough – they all travel onboard a flying bed! And yes! It really does fly!



Disney create literal and utter magic on stage. The opening sequence of the children's home being bombed and their subsequent journey is fantastically achieved. Moving scenery, lights, incredible music and impeccable acting from the children immediately set the level of this show with Disney Imagineering at its best. The opening song from the children instantly secures their believability, professionalism and downright utter talent. A Step In The Right Direction sprinkles our first glimpse of magic and illusion with humour, gasps and wide eyed children and adults in equal delight. As if this isn't enough, the bed takes flight. I got Disney fairy dust sprinkled all over me and shivered from head to toe with spine tingling awe. Every goose got bumped and every hair stood on end. I was in my happy place for sure.
Portobello Road was the best kind of cast ensemble work you could wish to see. There was so much going on, you could watch it time and time again and still find something new I'm sure. It was a real crowd pleaser too. And then we reached Nopeepo Lagoon. I have been waiting my entire life to visit here and a small part of me worried how on earth they were going to recreate animation V live action on stage and keep that special conflicting brilliance that allowed us to be Bobbin' along. I was immediately kicking myself for ever daring to show concern. As if! I should have known better, for this is Disney! I'm not actually going to say how they achieve it because I don't want to take away the joy of discovering some magic for yourself.


I've just realised I'm assuming everyone knows that this stage show is based on Disney's 1971 musical film of the same name, where they crossed over live action with animation, just like they did in Mary Poppins. Well if you didn't know, you do now. Apologies, I get carried away sometimes and forget that people can't see into the swirling glitter pool that is my mind. The original film had songs penned by the famous Sherman Brothers, which thankfully cross over into the stage production, but we are also treated to additional songs, music and lyrics by Neil Bartram which blend as wonderfully as the creation of new words in the play when the children mix words together to create new ones (or if you want to get fancy –create Portmanteau's).
The role of Miss Price was played by Angela Lansbury in the film, but today was brought to life beautifully by Dianne Pilkington (Young Frankenstein, Mamma Mia, 39 Steps, Wicked). I'm still trying to get over how good she was. Who on earth puts Angela Lansbury in her place? Dianne Pilkington – that's who! She is quirky, homely, engaging, genteel and fierce with the singing voice of an angel and an acting voice that is able to use subtle slides and pitches to create instant humour and likeability.
Charles Brunton plays Mr. Browne (with an E). Charles has played against some big names such as Jonathan Price in Oliver, and Tommy Steele in Scrooge. Credits also include Beauty And The Beast, Chess, Love Never Dies, and Matilda. Charles Brunton's big opening number Emelius The Great is outstanding. I have no idea how he performed it without collapsing tonight let alone eight shows a week! He sings, dances, performs magic and interacts with an entire ensemble cast and makes it look effortless. This energy is kept up throughout the show, dropped only when we see a more sensitive side to his character. I definitely want some of what he is on please!


Conor O' Hara (debut professional performance) plays Charlie and he has a natural presence about him. He is excellent at providing the cross over between the adults and the children. He fits into both worlds with conviction and you somehow feel you know him. He is simply lovely to watch. I'm not 100% sure which two wonderful young actors played Carrie and Paul as there is obviously a small group of children that rotate but they were incredible and I can only imagine how much their family and friends must be beaming with pride.
The ensemble cast are flawless and whilst this production has leads in the form of Miss Price, Mr. Browne and the three children, the show would literally fall to pieces without the ensemble. They are the life blood of this show, providing everything from traditional ensemble work such as singing, acting, dancing, to playing multiple roles which include choir, sound effects, stage hands, magicians assistants and creators of magic and illusion.
Bedknobs and Broomsticks is magnificently magical, creating memories to hold on to. Well done Disney! What a wonderful gift. To quote the shows on lyrics, "There's pure inspiration in every creation." You simply must zoom to this land of make believe where dreams really can come true.

WE SCORE DISNEY'S BEDKNOBS AND BROOMSTICKS - 10/10

CLICK HERE TO BUY YOUR TICKETS FOR THIS MAGICAL FAMILY MUSICAL