Liverpool Theatre News & Reviews
REVIEW - Anything Goes has everything - the best that musical theatre has to offer - You simply have to see it!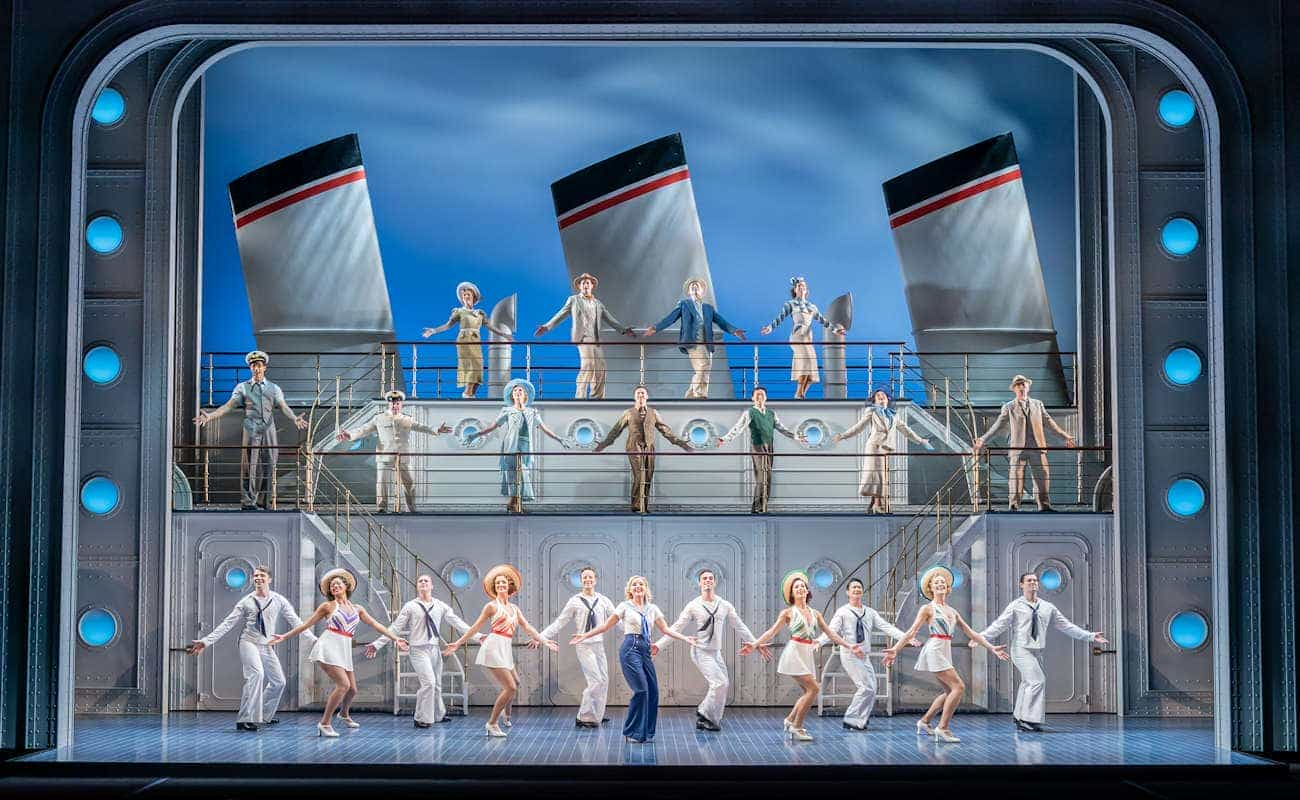 BUY ANYTHING GOES TICKETS HERE!
On Thursday, we went to the Palace Theatre, Manchester to watch Anything Goes. Our reviewer, Karen Ryder, has seen many great shows this year and this amazing production, packed with the biggest stars in showbiz, went straight to the top of shows we have reviewed...


Now that's how you put on a show! I mean, come on! If Carlsberg made musicals………! Anything Goes absolutely smashed it tonight and I will be living off this high for many months to come. It is fair to say that as one of my all time favourite shows with some of my all time favourite performers, I may have been a little loco with excitement these past few months and I am so happy that my expectations were not only met, but were sailed past at the speed of knots courtesy of the SS America! Cole Porter's score delivers hit after epic hit, so even if you think you're going into this show blind, I promise you will know many of its tunes and find yourself singing along, clapping those infectious rhythms, and ready to take up tap dancing, even attempting a few hop-step shuffles on the way for your interval drinks!!
Not only is Anything Goes so full of life, love, joy, fun, energy and happiness, it also impresses with its vulnerability, its emotion and its sensationally talented cast. This madcap story follows the antics of some larger than life characters onboard the SS America as it sails from New York to London. Billy Crocker is supposed to stay on dry land to manage stocks for his boss Elisha Whitney who is onboard the cruise ship. But just as Billy is bidding Elisha farewell, he spots Hope Harcourt who he has fallen madly in love with. Of course, just to make things a little trickier, Hope is there with her mother Evangeline and fiancé Lord Evelyn Oakleigh. Billy simply has no other choice but to stow away, try to break up her relationship and win her hand in marriage, whilst simultaneously trying to avoid his boss Elisha and convince the Captain that he is a genuine passenger. Enter his nightclub singer pal Reno Sweeney, Moonface Martin the number thirteen gangster in all of New York (or number two, depending on who you listen to - though what his actual crimes are we never find out, and you get the hilarious impression that even Moonface isn't too sure either!) and his assistant Erma.
Moonface maybe a debatable gangster but is definitely a number one conman and quickly gets to work on disguising Billy, first as a sailor, then a pastor, Lord Evelyn himself and finally as the number one gangster Snake Eyes! Reno works on seducing Evelyn away from Hope, whilst Erma works on seducing everyone just for fun! Old friendships are rekindled between Reno and Moonface, who provide a refreshingly brilliant leading couple who are not romantically involved but are simply the best of friends who have loyalty, love and respect for each other. As the plans to help Billy get his girl reach dizzying heights, a stint in the ships prison, evangelism, seductive tangos, threesomes and Evangeline's dog being shaved, thrown overboard and worn as a beard begin to seem like perfectly normal everyday occurrences. After all, in the pursuit of love – anything goes!
An impressive set dominates the stage throughout most of the show, welcoming us onboard the SS America. The stature of the cruise ship is impressive to say the least and used to maximum effect with its large and talented all singing all dancing cast. Combined with stunning lighting that creates mesmerising effects such as the reflection of water rippling across the ship, and romantic moonlight, this creative team have left nothing to chance.
This is an all star cast and multiple Award winning musical theatre royalty Kerry Ellis (Wicked, We Will Rock You, Les Mis) was born to play Reno Sweeney. Wowing us from the off, she sings hit after hit, each of which is delivered with her undeniable voice, reducing the audience to whoops, hollers and whistles time and time again. How she belts out those notes after such frantic dance routines is other worldly and thoroughly deserving of the standing ovations she obtained. Ellis leads some of the shows biggest numbers, such as Anything Goes and Blow Gabriel Blow with a heavenly authority and it's hard to take your eyes off her, making it clear how and why she earned her place as one of musical theatres leading ladies. She is commanding, warm, comical and everything inbetween - a performance I shall never forget.
Olivier Award winner Denis Lawson (Star Wars, Bleak House, Mr. Cinders) is the best worst gangster as Moonface. He continually makes the audience laugh and develops some brilliant catchphrases and quirks with his character, ensuring that half the time we were laughing with anticipation before he had even delivered his lines! That is a skill only an accomplished actor such as Lawson could achieve. His timing is so spot on that you really feel you are watching a master at work. Lawson's solo 'Be Like The Bluebird' shows off his amazing singing voice and again his brilliance is able to engage the audience with the fact that he is ultimately singing to a blue spotlight. Yet the number is so full of charm and whim that you just roll with it, allowing yourself to be guided by him and follow the spotlight as if it really were the bluebird!
Olivier Award winning Simon Callow (Four Weddings And A Funeral, The Mystery Of Charles Dickens, The Woman In White) is wonderful as Elisha Whitney. He is full of fun and again knows exactly how to engage the audience and have us laughing at his misdemeanours. His physical comedy is an honour to watch, from him blindly trying to find his way across the ship without his glasses, to trying to bend down (and more importantly get up again), to his Yale bulldog moves. Callow is the perfect companion, no matter who is partnering on stage. All it needs is one look from him, one raised eyebrow, and you are hooked by a master.

Multiple award winner Bonnie Langford (Eastenders, Cats, 42nd Street) does not age! I swear, she is better than ever, and still high kicking across that stage right until the bitter end! Her character acting is just phenomenal. She is able to switch from her crocodile tears to ecstatically happy and back again quicker than you can blink. She makes her gold digging, mother controlling character so funny that you just want more and more of her outrageous behaviour. Langford is a showbiz legend and so was born for this production. She has a brilliant moment where she bursts onto stage in a life jacket dripping with jewels, and its clear that her movement is enhanced by her impressive and famous dance talent. At this point I just need to take a moment to recap – Kerry Ellis, Denis Lawson, Simon Callow and Bonnie Langford! Whoever cast this show – THANK YOU!!
Samuel Edwards (Les Mis, On The Town, Ghost) oozes a cheeky charm as Billy Crocker, and he flits between his characters different friendships and relationships with smooth waters. He has great repartee with Ellis as Reno, fantastic comedy with both Lawson & Callow as Moonface and Elisha, and a more tender and loving side with Baisden as Hope. Edwards again has so many wonderful moments, it's hard to not gush! He is phenomenal and showbiz perfection in the previously mentioned 'You're The Top,' with Ellis, yet shows a contrasting more delicate side in 'De-lovely' with Baisden, where he is equally able to show off his amazing dance skills. An absolute all rounder and leading man who makes the show so much richer.
Whatsonstage award winner Carly Mercedes Dyer (A Chorus Line, The Colour Purple, West Side Story) is fantastically fun, fabulous and flirty as Erma. She is so stylish, subtle and in control on stage that Erma becomes a character of female empowerment! Her timing is flawless and her delivery of detail is impeccable, making each word, gesture and movement count. I just love her. Dyer's solo 'Buddie, Beware' gives her the opportunity to shine and share her god given talent with everyone, mastering a perplexing combination of comedy and sensuality. Add into that incredible singing and dancing and it's no wonder why Dyer is winning awards and being nominated for Olivier's!
Haydn Oakley (The Book Of Mormon, An American In Paris, Sunset Boulevard) is an unequivocal genius as Lord Evelyn Oakleigh. He plays the role of the posh cad with such a loveable approach that you can't help but embrace all his pomp and circumstance and celebrate his enthusiasm for life. Oakley's smile, charisma and talent are captivating and he has seriously funny bones, none more so than when he is doing his hilarious tango or is reacting with such glee at the Americanisms he learns from Reno. He is brilliant at portraying such innocence, yet equally conveying that he most definitely has a colourful past with his gypsy connections. You can't help but smile every time he comes onto the stage.

Hope Harcourt is brought to life by the delightful Nicole-Lily Baisden (The Book Of Mormon, Newsies, Let's Face The Music). Baisden is brilliant at showing us the multitude of sides to Hope, from the unapproachable debutant, the cautious girl trying to protect her heart, to the carefree and totally in love abandonment she experiences. Hope may not be as 'out there' as the other female characters, but Baisden makes sure that she doesn't fade into the background. With some beautifully tender moments, gorgeous singing and touching partner work, Baisden shines bright in a strong cast and plays Hope to such a standard that it is abundantly clear why Billy has upended half a cruise ship for her.
Cole Porter has written hit after hit, and waves of familiar, brilliant and irresistible melodies lap and crash their way throughout the entire performance. Friendship sang by Ellis and Lawson created an immense ripple of appreciation, love and warmth, with their performance spilling over into elements of natural joy, improvisation and giggles galore. It's fabulous when you see the cast having so much fun as it engages an audience on a much more personal level somehow, breaking down any showbiz barriers or fourth walls. You feel a part of the gang, a part of the joke and its very clever. There are glorious ensemble moments (and this is an impressively sized cast, making these numbers spectacular beyond belief) such as Bon Voyage, Blow Gabriel Blow and the showstopper to end all showstoppers Anything Goes! Wow! At about nine minutes long, this all encompassing tap number is worth going to watch the show for alone! It fills you with an intoxicating euphoria and personally left me so pumped with endorphins and adrenaline that my eyes sprung a leak of sheer joy at its brilliance. It makes use of a three-tiered set and relies on nothing but talent. It really is one of those moments you'll never forget, and quite rightly provoked a standing ovation! What a way to end act one!
Anything Goes has everything! Humour, beautiful and unique relationships, vulnerabilities, farce, tenderness, intriguing and brilliant characters and the best that musical theatre has to offer. Buoy oh Buoy is it good (sorry – couldn't resist!) With a family friendly plotline, dazzling costumes, thrilling songs, indulgent dancing, shimmering sets and quirky, contagious characters, you'd be hard pushed to find a more exuberant and exhilarating show! To quote its own song, It's delightful, it's delicious, it's de-lovely. It is intellectually goofy and silly and try as I might, I feel my review cannot do Anything Goes justice for there don't seem to be enough ways I can express the joy it brings. It really is a case of actions speaking louder than words – a show you simply have to see! Anything Goes has sailed into town and it's a sure hit of a show so grab your tickets before it's bon voyage and anchors away! I know I'll be going again!

WE SCORE ANYTHING GOES – 10/10


You can see this superb production at Palace Theatre, Manchester until Sat 18 June and with our special offer of £25 tickets for the best available seats, you really don't want to miss this one!
BOOK YOUR TICKETS HERE WITH OUR £25 SPECIAL OFFER