Liverpool Theatre News & Reviews
Look who's back for this year's panto in Manchester!!!!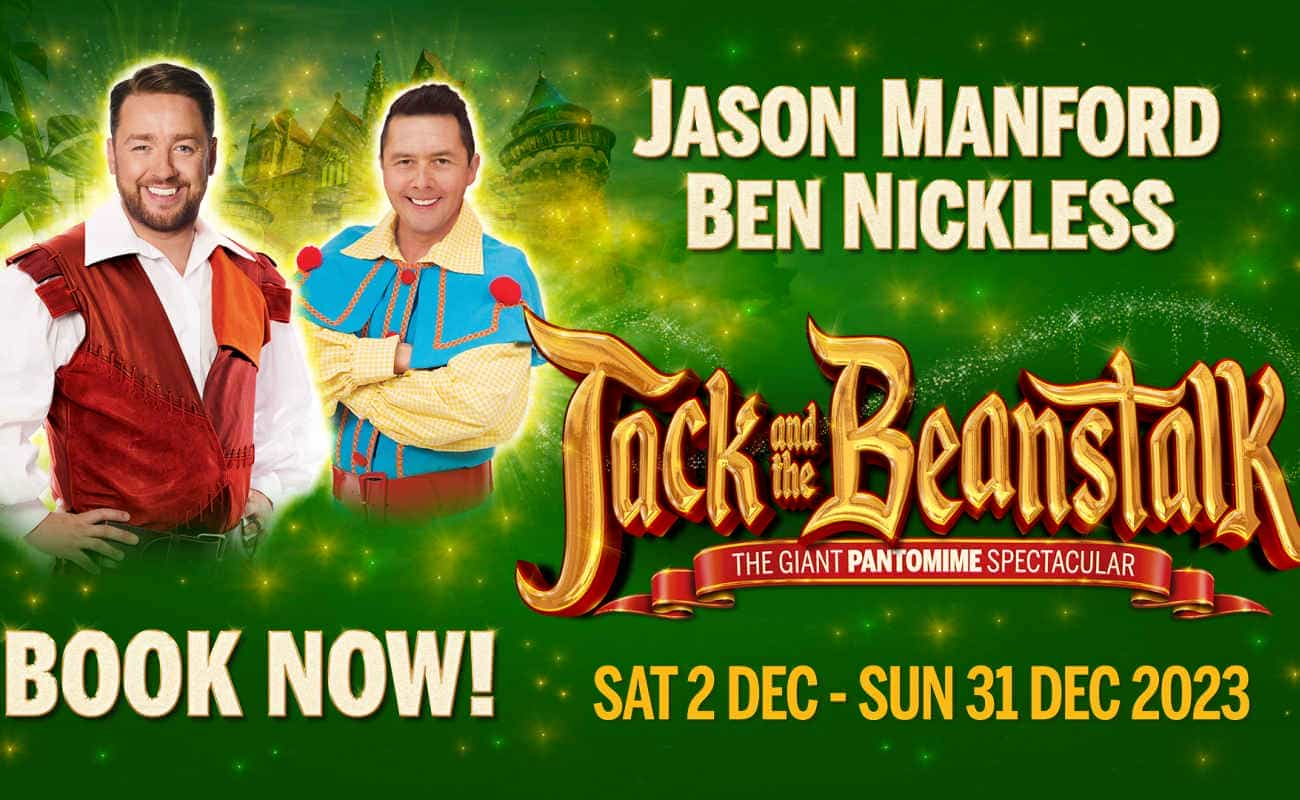 BOOK YOUR TICKETS TODAY!
Jason Manford and Ben Nickless are to reunite for this year's pantomime Jack and the Beanstalk at Manchester Opera House, with additional dates added by popular demand.
Manchester Opera House has today [Thursday 2nd March 2023] announced that Comedy superstar Jason Manford will return to lead the cast of this year's spectacular production of the gigantic family pantomime, Jack and the Beanstalk, now running from Saturday 2 December 2023. He is joined by returning Manchester panto favourite Ben Nickless as Silly Simon, seeing the dynamic duo come together for a second year after popular demand.
Stand-up comedian, actor, singer, radio and television presenter Jason Manford began his career in 1999, while working at the Buzz Comedy Club in Chorlton, Manchester, and since then has regularly packed-out theatres and arenas up and down the country with his award-winning comedy. Jason is no stranger to our television screens having presented numerous shows for the BBC and ITV including the quiz show Unbeatable, Sunday Night at The Palladium and The Royal Variety Performance. He can currently be seen on ITV1 every Saturday night judging on the new series of Starstruck. Later this month, he will host BBC One's primetime show Big Night of Musicals for the second time. Jason has also starred in numerous stage musicals in the West End and across the UK, including Sweeney Todd, The Producers, Chitty Chitty Bang Bang, Guys and Dolls, and Curtains.


On his return to panto after a triumphant year as Captain Hook in The Pantomime Adventures of Peter Pan, Jason Manford said: "I know I joked about Peter Pan being my 'farewell debut' in Panto, but in truth I had such a wonderful time last Christmas that I was itching to do it again. So, to be invited back to the Opera House in Manchester with such a fun and collaborative company and alongside my new best mate, the hilarious Ben Nickless, well, how could I say no? This Christmas I'll be putting down the hook and stepping into the title role in Jack and the Beanstalk, and I'm very much looking forward to playing the nice guy! The Manchester audiences are second to none, so I'm really honoured to be part of your Christmas panto tradition once again."
Joining Manford for another year of antics will be Britain's Got Talent finalist Ben Nickless, in the role of Jack's brother, Silly Simon. Rochdale-born Nickless started his working life playing the comedy clubs in the North-West and his career took off in 2006 when he performed his own style of comedy and impressions on the BBC television series Let Me Entertain You alongside Brian Conley and Christine Bleakley, winning his episode. Ben returns to the Manchester Opera House panto by popular demand, having played Smee in The Pantomime Adventures of Peter Pan, Wishee Washee in Aladdin, Muddles in Snow White and Buttons in Cinderella.
Ben, who returns to the Opera House for his fifth consecutive year, said: "I'm delighted to be coming back to Manchester for my fifth pantomime at the Opera House and especially convincing Jason to come back with me (didn't take much… a caramel latte, 2 steak bakes and a yum yum from Greggs). Jason and I had such a great time working and laughing together last year, we thought we should do one more together and I can't wait to get started on some new routines for the amazing Manchester audiences.


Michael Harrison, Chief Executive of the UK's biggest pantomime producer Crossroads Pantomimes said: "Jason was such a hit last year in Manchester that it was a no brainer to ask him back for another season, he is a comedic legend and together with Opera House favorite Ben Nickless the show has all the ingredients to delight comedy lovers looking for a great time this Christmas. I'm thrilled to have them both back for the gigantic adventure of Jack and the Beanstalk this Christmas at The Opera House."
Robin Hawkes, Theatre Director of the Palace Theatre & Opera House said: "Last year was our most successful pantomime to date, with thousands of visitors relishing what quickly became a showstopping partnership between Jason and Ben. The entire show was a runaway success, and we are therefore thrilled these two titans of comedy will be reunited on our stage later this year. Our pantomimes are a well-loved festive staple for many, and we're excited to welcome current and first-time theatregoers to experience what is sure to be a gigantic success for both the Opera House and Manchester's ever-growing cultural scene."
Follow Jack and climb a beanstalk of gigantic proportions to cloudland in the spectacular family pantomime, Jack and the Beanstalk.
Jack and the Beanstalk replaces the originally announced production of Snow White and the Seven Dwarfs and will now run from Saturday 2nd December through to New Year's Eve, with the addition of 8 more shows due to popular demand.

Jack and the Beanstalk is on at the Manchester Opera House from December 2nd to 31st 2023.
BOOK YOUR TICKETS HERE