Liverpool Theatre News & Reviews
Announcing the world première of a Manchester-based musical full of high stakes, high emotions... and even higher heels!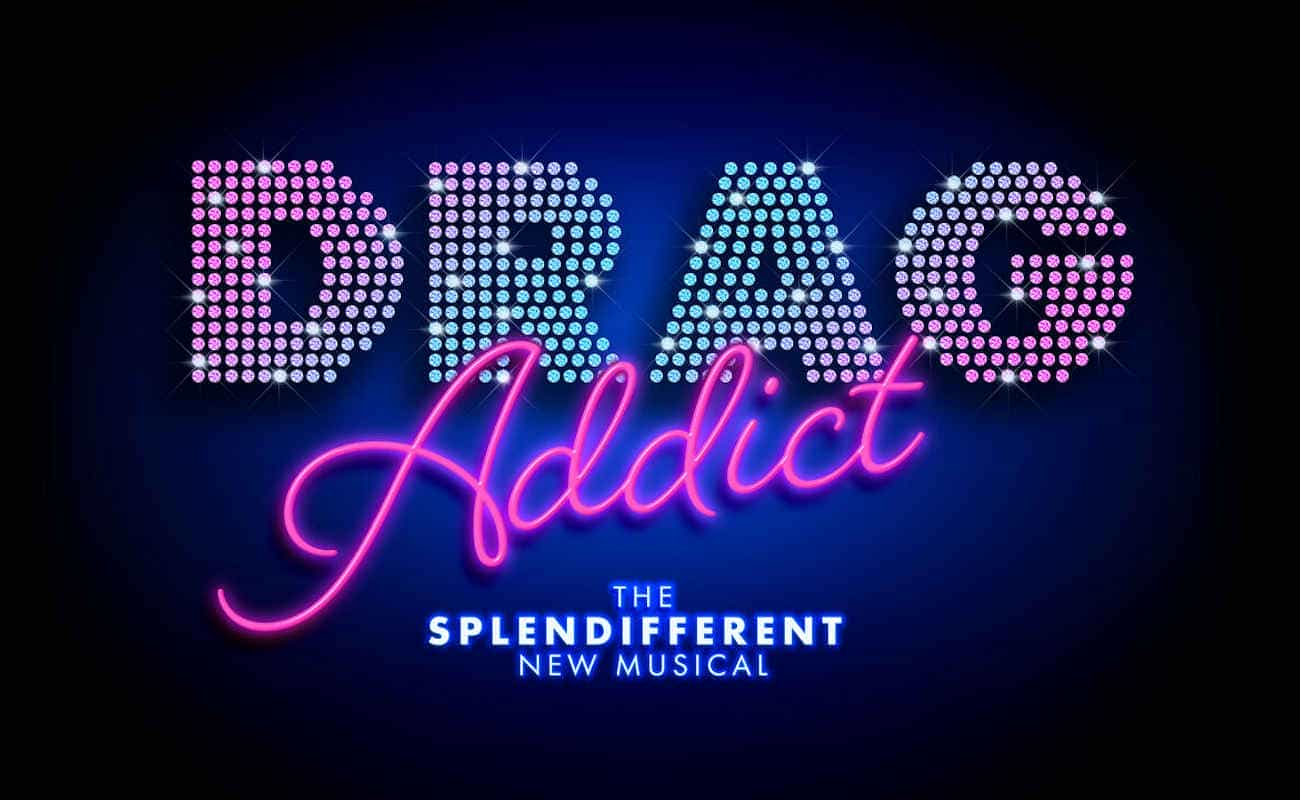 BOOK YOUR TICKETS HERE
Written by Matt Cain and David Andrew Wilson
Concept development by Arlene Phillips

Directed by Jonathan O'Boyle
Choreography by Arlene Phillips

HOME, Manchester
18 July - 12 August, 2023
It's summer in Manchester. It's raining (obviously) and on Canal Street storm clouds of another sort are gathering. Club Fierce is under threat. But Dolly Ravage, who runs the club and is the unofficial godmother of the Gay Village, isn't going down without a fight.

Dolly has a plan to to save it from property developers by recruiting six amazing queens to slay the runway and reinvent Club Fierce as the all-new House of Ferocity.

But will the arrival of the mysterious Bobby Carter from America - hiding a secret that could change everything - derail her battle to save the soul of the Manchester scene?

Boasting a handbag full of original high energy bangers, ballads and earworm songs, 'Drag Addict' is written by Matt Cain and David Andrew Wilson, with concept development and choreography by Arlene Phillips - who has just been announced as the recipient of this year's Special Award Olivier "for her inspiring work in dance and choreography" - and is directed by Jonathan O'Boyle.

Matt Cain said: "In my novels and journalism I've always loved exploring themes of LGBTQ+ identity, culture and community, asking what it means to be gay or queer in our modern, digital world. So it's a real thrill to be opening up this new channel for my creativity and exploring the same themes in musical theatre. I'm also overjoyed to be creating a show that pays tribute to my home city of Manchester, a city that saved my life as a teenager and helped shape both the person and the writer I've become today."

David Andrew Wilson said: "I am so excited to be bringing 'Drag Addict' to HOME in Manchester. So much of this musical was written in lockdown when Matt, Arlene and I were just dreaming about what it would be like to be back on Canal Street. And now, here we are, about to open in Manchester! Writing pop music has always been my number one passion and I am so excited that I've had the opportunity to write a show that incorporates modern pop to 90s dance to Broadway big band in an entirely original score. It's time to Slay the Runway!"


Arlene Phillips said: "When I moved from Manchester to London in the 1970's, many people found an escape in my dance classes from a society that still frowned upon their sexuality. It became a place where they were free to express themselves through dance in any way they wanted. It has been my dream to create a musical that embraces my love of drag and the LGBTQ+ community. I was lucky enough to have two creative friends in my life, Matt Cain and David Wilson, that I could I bring together to make it a reality."

Cast and full creative team to be announced.

Produced by JAS Theatricals, Aria Entertainment and HOME.


Matt Cain - Writer
Born in Bury and brought up in Bolton, Matt Cain is a writer, broadcaster, and a leading commentator on LGBTQ+ issues. He's bestselling author of novels 'Becoming Ted', 'The Secret Life of Albert Entwistle' and 'The Madonna of Bolton'. He's written for all the major national newspapers and between 2016 and 2018 was Editor-in-Chief of Attitude magazine. He's a regular presenter on Virgin Radio Pride and from 2010 to 2013 was Channel 4 News Culture Editor. He's also an ambassador for Manchester Pride and the Albert Kennedy Trust, plus a patron of LGBT+ History Month. 'Drag Addict' is his first musical.

David Andrew Wilson - Writer
David Andrew Wilson is a composer from Harrogate, North Yorkshire. He studied music and songwriting at the Liverpool Institute for Performing Arts. After graduating, he toured the UK's club scene as part of dance/pop band 'Untouched'. He moved into Musical Theatre in 2011 and has been Head Of Music at Andrew Lloyd Webber's company The Really Useful Group since 2013. Credit highlights in this role include 'School Of Rock' and 'Starlight Express' (where he first met Arlene Philips). Most recently, he was the UK Musical Supervisor for 'Bad Cinderella' on Broadway. He was the Associate Music Producer of the 'Cats' movie and worked closely with international pop sensations Taylor Swift and Jenifer Hudson as well as theatre royalty Dame Judi Dench and Sir Ian McKellen. 'Drag Addict' is David's third musical as a composer and he is excited to be combining three of his favourite things - musical theatre, pop music and drag - into one fierce, uplifting and heartwarming show!

Arlene Phillips - Concept Development / Choreography
Arlene Phillips is a world-renowned choreographer and theatre director, honoured as a DBE for services to dance and charity. She is a lifelong ally of the LGBTQ+ community, and first came to prominence when she created the hugely popular dance group Hot Gossip. When Arlene moved from her hometown of Manchester to London in the early 1970's, her dance classes became a go-to haven for the gay community when there was still a fear of being outed. Everyone from dancers, lawyers, market traders, pop stars and drag artists, went to Arlene's classes and relayed their stories, which inspired her to one day create a musical about their world. 'Drag Addict' became a reality when she introduced two brilliantly creative friends, David Wilson and Matt Cain, with a dream to make this happen. Included in Arlene's extensive choreographic credits are West End musicals such as 'Starlight Express', 'Grease', 'We Will Rock You', and Bridge Theatre's immersive 'Guys and Dolls'; Hollywood films like John Huston's 'Annie', Allan Carr's 'Can't Stop The Music', 'Monty Python's Meaning of Life'; music videos for the likes of Elton John, Queen, Whitney Houston, Diana Ross and Tina Turner. As a director, Arlene's credits include 'The Cher Show' and 'Saturday Night Fever', and as a dance judge, for hit TV shows including 'So You Think You Can Dance' and 'Strictly Come Dancing'.

Jonathan O'Boyle - Director
Jonathan trained as an actor at the Royal Central School of Speech and Drama and as a director at Birkbeck, University of London. Directing credits include 'Wish You Were Dead' (UK tour), 'Looking Good Dead' (UK tour), 'The Last Five Years' (Garrick Theatre, Off-West End Awards for Best Director and Best Production); 'Top Hat' (Mill at Sonning) 'Hair' (Hope Mill Theatre/The Vaults/UK & European Tours, WhatsOnStage Award for Best Off-West End Production); 'A Guide for the Homesick', 'Rasheeda Speaking', 'Bash Latterday Plays' (Trafalgar Studios); 'Dear Brutus' (Southwark Playhouse); 'The View Upstairs' (Soho Theatre); 'Rain Man' (Bill Kenwright/UK tour); 'Aspects of Love', 'Pippin' (Hope Mill Theatre/Southwark Playhouse); 'Cruel Intentions' (Palais du Variété/Bill Kenwright); 'This House' (Headlong/UK Tour, co-directed with Jeremy Herrin); 'The Astonishing Times of Timothy Cratchit' (Hope Mill Theatre); 'Proud' (Turbine Theatre); 'Rogers and Hammerstein's Cinderella' (Cadogan Hall); 'Peter Pan' (Park Theatre); 'Four Play, Sense of an Ending' (Theatre503); 'The Surplus', A'll The Ways To Say Goodbye' (Young Vic); 'Made In Britain' (Old Red Lion); 'The Wedding Singer', 'Nice Work If You Can Get It', 'Season's Greetings' (ArtsEd). Associate Director credits include: 'An American In Paris' (Dominion Theatre); 'The Judas Kiss' (Brooklyn Academy of Music/Ed Mirvish Theatre, Toronto); 'The Scottsboro Boys' (Young Vic). Jonathan is the Director of the School of Musical Theatre at ArtsEd.
JAS Theatricals - Producer
JAS Theatricals (formally Kilimanjaro Theatricals) was established by Stuart Galbraith and theatre producer Joshua Andrews to produce, co produce and general manage stage productions around the world. Their first productions together saw them acting as co-producers on '9 to 5' in the West End, 'Hadestown' on Broadway - which won the Tony Award for Best Musical, 'Noises Off' at The Garrick, 'Muriel's Wedding - The Musical' in Australia, 'On Your Feet' at the London Coliseum and 'The Last King of Scotland' at Sheffield Theatres. Current projects they are involved in include 'Pretty Woman' (Savoy), 'Hadestown' and 'Pretty Woman' (US tours), the multi Olivier Award winning 'Life of Pi' (West End) and Agatha Christie's 'The Mirror Crack'd' (UK tour).

JAS Theatricals is currently the lead UK producer on the new hit comedy whodunnit 'Cluedo' and the new Tom Jones musical, 'What's New Pussycat?', that received rave 5-star reviews on its premiere in Birmingham at the end of last year.

Stuart Galbraith is the CEO of Kilimanjaro Group whose ownership includes Kilimanjaro Live, Fane Productions, FORM, Singular Artists, Let's Rock Festivals and Belladrum Festival (Scotland). The group of companies produces and promotes music concerts, musical theatre, comedy, spoken word, festivals, family events and social media events, working with shows and artistes as diverse as Ed Sheeran, Andrea Bocelli, Stereophonics, Kew the Music and The Illusionists. The group of companies sells over 1.5 million tickets per year.

Joshua Andrews produced for Bill Kenwright, before setting up his own venture to produce and general manage plays and musicals, via which he has produced the successful play franchise of Peter James novels, the Olivier Award winning 'An American In Paris' in the West End and Kay Mellor's 'Fat Friends - The Musical' on a major UK tour. A Tony winning and two time Olivier Award nominated producer, he also co produced 'A Streetcar Named Desire', starring Gillian Anderson, with The Young Vic in London and at St. Ann's Warehouse in New York. Other projects include stage adaptations the global best selling novel, 'The Girl On The Train' (Tour and West End), Kay Mellor's iconic TV series, 'Band of Gold' and he is currently a co-producer on 'Pretty Woman' (West End and US tour).

Aria Entertainment - Producer
Aria Entertainment was founded in 2012 by Producer Katy Lipson. In 10 years, she has produced over 80 productions in the West End, Off-West End and across the UK. Her most recent credits have included 'Cruise', which received an Olivier nomination for Best New Play and is now being developed as a film after two sell-out runs at the Duchess Theatre and Apollo Theatre, and the critically acclaimed transfer of 'The Last Five Years' to the West End. She is also a producer of several major UK tours including 'The Osmonds', 'The Cher Show', 'Hair', 'The Rise and Fall of Little Voice' and 'The Addams Family'.

For several years, Katy was the Producing Artistic Director of the renowned Hope Mill Theatre in Manchester, creating and producing productions, many of which transferred to London. During her tenure she worked with Stephen Schwartz on creating a re-imagined version of 'Rags' and presented the first production of Jerry Herman's 'Mame' in the UK for over 50 years. In 2017, Lipson was awarded the Best Producer award by the Off-West End Awards and in 2019 was nominated for International Producer of the Year by the League of Professional Theatre Women in New York. She is a recipient of the Stage One Bursary and Start Up Award and works as a mentor on their Bursary and Bridge the Gap programmes. In 2018 she was included in "The Stage 100" list and in 2019 and 2020 for her work at Hope Mill Theatre, Manchester and again in 2021 for her work as a solo producer. Lipson is at the forefront of new musical development in the UK, having set up the From Page to Stage festival to support new musicals at all difference stages of development. In six years, From Page to Stage has given a platform to over 100 new musicals; many of which have gone on to have full productions and be licensed worldwide. It is a keen passion of hers to cultivate new musicals that can have a long lasting legacy in the West End, on Broadway and all around the world.
HOME - Producer
HOME is Manchester's centre for international contemporary culture. Since opening in May 2015, HOME has welcomed over four million visitors to its two theatres, five cinemas, art gallery, book shop and restaurants. HOME works with international and UK artists to produce extraordinary theatrical experiences, producing an exciting mix of thought-provoking drama, dance, and festivals, with a strong focus on international work, new commissions and artist development. HOME's ambition is to push the boundaries of form and technology, to experiment, have fun, take risks and share great new art with the widest possible audience. The patrons of HOME are Danny Boyle, actress Suranne Jones, playwright and poet Jackie Kay CBE, artists Rosa Barba and Phil Collins, filmmaker Asif Kapadia, and actress and author Meera Syal CBE.