One Man Two Guvnors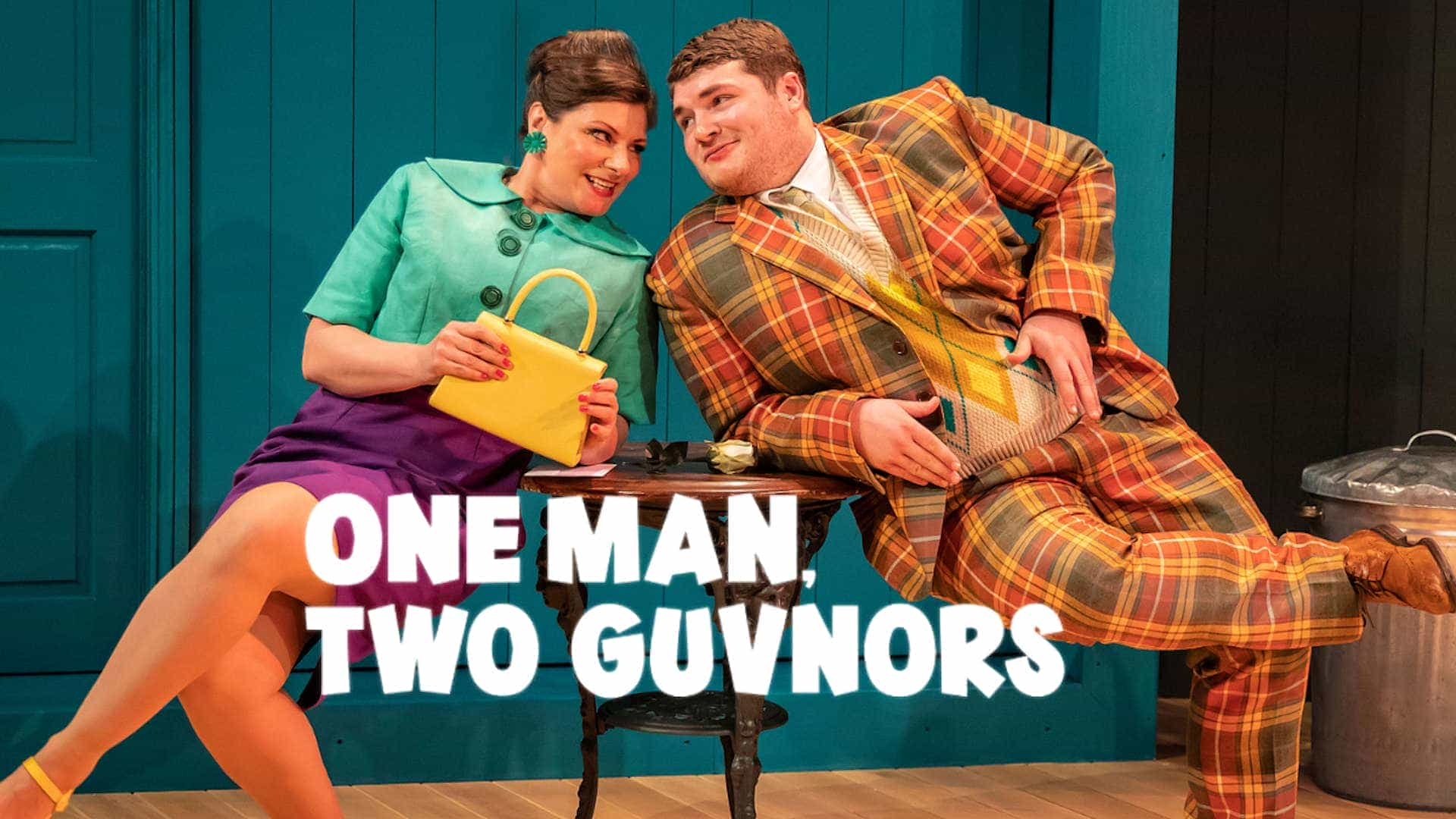 THE SMASH HIT COMEDY EXPLODES INTO BOLTON.

It's 1963 and Francis Henshaw has just been fired from his skiffle band. In search of food and romance, he soon finds himself juggling not one but two new jobs.

What Francis doesn't know is that his first guvnor, small time crook Roscoe Crabbe, is actually Roscoe's twin sister Rachel, in disguise as her dead brother, who was killed by her boyfriend, Stanley Stubbers. To complicate matters further, Francis' second boss is none other than Stanley Stubbers, on the run and desperate to be reunited with Rachel.

All Francis needs to do is keep his two guvnors apart. What follows is a hilarious mix of slapstick, farce and live music. This side-splittingly funny, brand new production is not to be missed.

By Richard Bean
Based on The Servant of Two Masters by Carlo Goldoni
With songs by Grant Olding
Directed by Lotte Wakeham
One Man Two Guvnors Tickets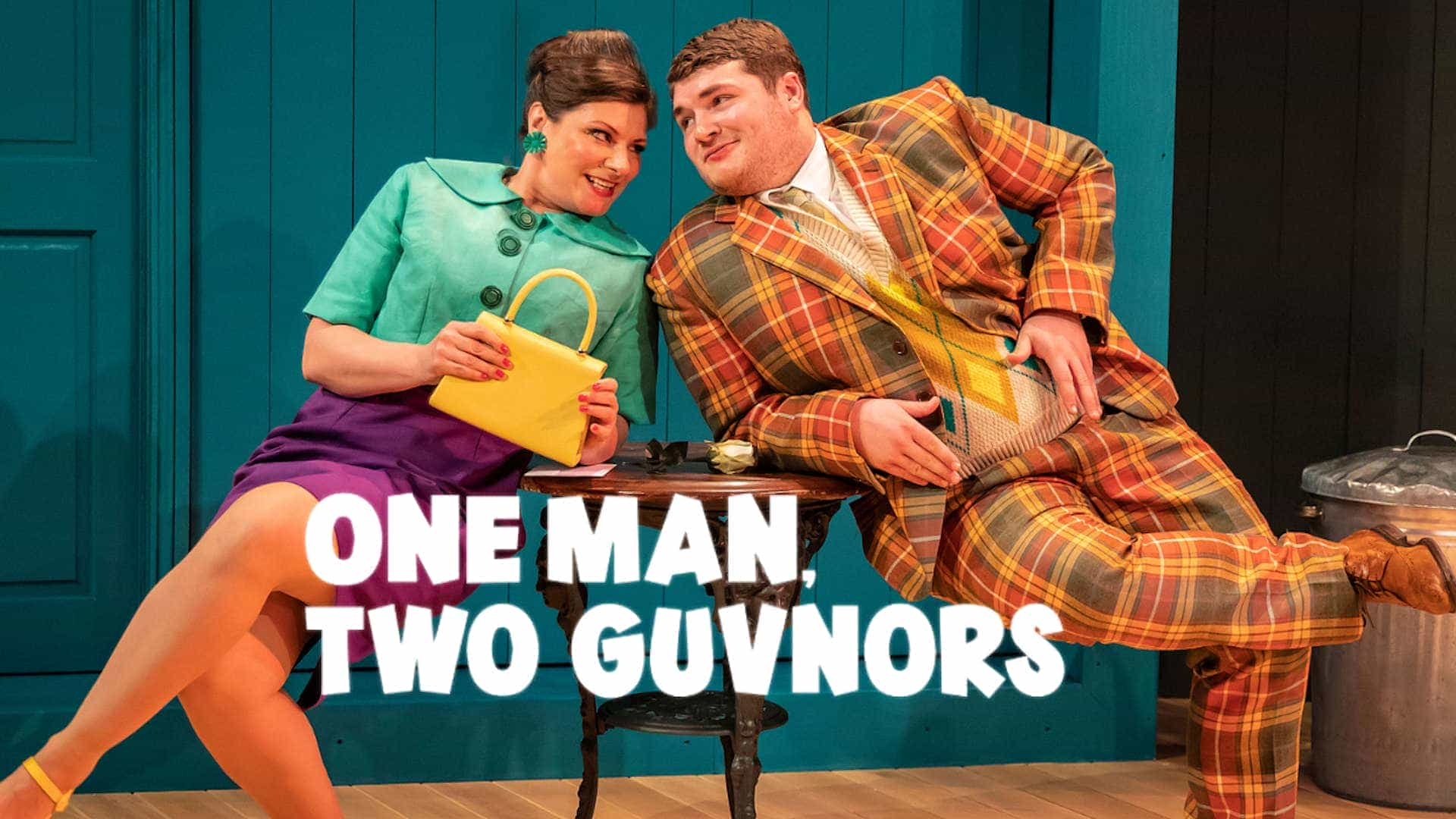 Sorry, there are no tickets for One Man Two Guvnors in Liverpool available at the moment. This maybe due to one of the following reasons:
- One Man Two Guvnors in Liverpool tickets are currently not on sale.
- The event has sold out.
- Details have not yet been announced for One Man Two Guvnors in Liverpool.
- The event may have been cancelled.
- The event has been and gone.
Join our free mailing list for
updates about this event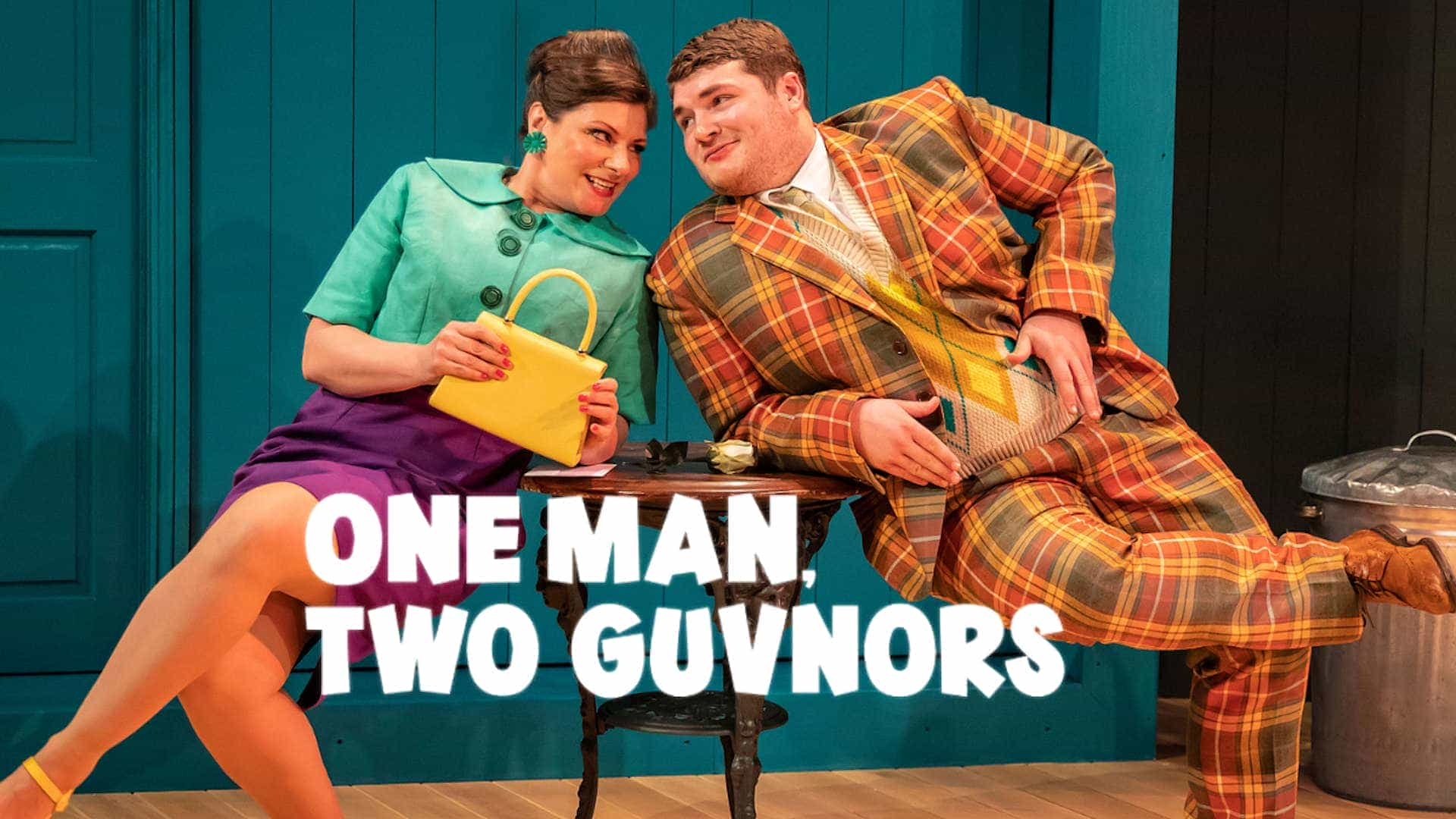 One Man Two Guvnors ON TOUR
Our review on One Man Two Guvnors
One Man, Two Guvnors - The Octagon, Bolton - Tuesday 31st May 2022 by Karen Ryder
Our Rating
WITH LARGER THAN LIFE CHARACTERS, QUICK WIT, FANTASTIC MUSIC AND SLAPSTICK COMEDY, ONE MAN TWO GUVNORS IS A BRILLIANT NIGHT OUT!

Anyone got a cheese sandwich? If so, can you get yourself down to the Bolton Octagon and deliver it to Francis Henshall please before he starts eating floor food! Francis is broke. He has been fired from his skittle band and is willing to feed himself by any means possible. He's not eaten since lunchtime after all! So, when two paid opportunities present themselves at the same time, what's a man to do? Francis grabs them both by their meat and two veg meaning he not only works for local criminal Roscoe Crabbe but also for Stanley Stubbers who is currently hiding from the police. Sound simple? Well, what if I tell you that Roscoe Crabbe is dead and is actually being impersonated by his sister Rachel Crabbe so she can collect the £6k he is due? Add to that the fact that Roscoe was killed by Rachel's boyfriend, who - yep! You guessed it - is none other than Stanley Stubbers! Enter Francis Henshall who finds himself in the middle of the criminal underworld, a family feud, an engagement, and an exhausting existence of keeping his two Guvnors apart so they don't attempt to kill him too as he plays them off against each other! And all of this because he fancies an extra helping of haddock, chips, and mushy peas!
I first saw One Man Two Guvnors courtesy of The National Theatre during lockdown. It was the perfect play to keep spirits high, for its farcical and fun comedic plotline provides the perfect tonic to cheer anyone up. As soon as I heard it was coming to The Bolton Octagon, I secured my ticket, and prepared myself for an evening of fraudulent characters, police pursuits, and one man trying to ensure that his two demanding bosses never meet! Walking into the theatre was so much fun as the audience were greeted with a live skittle band playing under a multi bulb lit sky, creating the perfect holiday vibe. I already felt like I was on a night out, with everyone clapping along and enjoying the atmosphere – and the play hadn't even begun. This fantastic band are used to maximum effect throughout the performance, providing entertainment for set changes, and even sharing its members to double up as characters in the play. It also offers ample opportunity for remaining cast members to each have a solo spot too, whether that be singing, playing the body as an instrument or playing the kazoo! Tony Award Nominee and Drama Desk Award winning composer and lyricist Grant Olding has created an amazing array of tunes that uplift your spirits, allowing you to join in the performance by singing and clapping along to his breezy songs. They are very reminiscent of Lonnie Donegan and the audience absolutely lapped it up.
Award winning writer Richard Bean has penned an incredible play with One Man Two Guvnors. It's quick wit, multiple one liners, and constant split use of internal verses external fourth wall breaking dialogue ensures this play keeps the audience on its toes throughout. We are constantly treated to asides from the characters as they talk to us directly, explaining what they're actually thinking as opposed to what they're saying, or sometimes simply asking us for advice – like where is a good place to take someone on a first date! It also makes use of the fact it is set in the past by characters predicting things they think will happen in the future, such as phones you can carry around with you, or a female Prime Minister! It is able to mock the downfalls of its own predictions too so as an audience in know of the future, this becomes an ingenious method of ridicule and poking fun. There are repetition jokes throughout which create the essence of you being in on the shared jokes and very cleverly engulf you as part of the group. It's that feeling of a shared history with your pals as you laugh time and time again over certain stories. It is such a simple but effective skill that truly submerges the audience even further into the evening. We become part of the existence of what happens at Dartmoor, learn time and time again that Alans knife is from Woolies, and laugh with expectation at the reoccurring dilemma from Francis, "I've gotta be very careful what I say here." The one liners are delivered in abundance, and hit the mark every time. Some are fun and silly such as "I'm dangerous and unpredictable, like a bee trapped in a shop window," and some are groaningly grosse and great, extracting nonstop laughter such as, "Cor blimey, I smell like a doctor's finger!"
However, the best script only works with the best team and the best actors to do it justice. There is such strength in this cast and such a relaxed ease within their performance, that they honestly made you feel like you were hanging out with your mates. Jordan Pearson (This Is The Winter, Ladhood, Coronation Street) knocks it out of the park as Francis Henshall. He is cheeky, loveable, energetic and you are routing for him throughout. He is great with improvisation as he heads into the audience looking for food, comfortable with pulling poor unsuspecting members of the audience up onto the stage, and brilliant during his inner turmoil when he argues with, and even has a fight with himself. Siobhan Athwal (& Juliet, Wasted, Eastenders) slides with a smooth ease between playing Roscoe and Rachel Crabbe. From almost street dance popping moves as Roscoe to flailing and emotive as Rachel, Athwal maintains two strong physicality's throughout and matches this with her vocal ability to glissando from the deep, dark and gruff Roscoe to the feminine Rachel at the drop of her trilby hat. Qasim Mahmood (Aladdin, Trojan Horse, Doctors) is the perfect portrayal of Alan the wanna be actor darhling! He spoofs up his role to an excitable extreme and has the audience roaring with laughter time and time again. His physicality is used to maximum effect as he bounces and takes flight across the stage. Laurie Jamieson (Romeo & Juliet, Thor & Loki, Call The Midwife) is hilarious as the obnoxiously pampered Stanley Stubbers. He plays the boarding schoolboy graduate with frivolous pomp and plenty of circumstance, delivering his own brand of inappropriate language and observations unapologetically. He seems to be having the time of his life in this fabulous role and the audience loved him. Rodney Matthew (The Pillowman, The Tempest, The Seagull) embodies the perfect East End rogue. He is Sean Bean meets Mr. Bean and it is just wonderful. This talented individual continually switches from character to playing in the band throughout the evening and with his del boy like moves and guarantee of tears at the mention of his wife, he is a joy to watch.
Alexander Bean (Summer Holiday, The Wizard Of Oz, The Crucible), Lauren Sturgess (An Enemy Of The People, Wuthering heights, Heart To Heart), and Matthew Ganley (The Wizard Of Oz, Oliver Twist, Waterloo Road) complete the fantastic skittle band and also play their roles with excellent ease. Bean is the master of the short aside, so much so, that his last one in the play just becomes a look – no words are needed. Sturgess is wonderful and charming as the confused Pauline and a beautiful singer, and Ganley seems to be everywhere all at once. One minute he is wowing us with his vocals, the next he is a policeman, or a waiter. Incredible. Karl Seth (Annie Get Your Gun, The kite Runner, East Is East) does the same, and though his main role is Harry Dangle, in which he is so swarve, the next moment he is stood beside you in the audience dressed as a policeman looking for his hat! Polly Lister (The Hound Of The Baskervilles, Abigails Party, The Murder Of Stephen Lawrence) is full of fun throughout, and not afraid to let loose as she uses her leg to air guitar riff her way across the stage. She shares her dating life with you so dryly that she instantly makes you her best mate. That leaves the brilliant Javier Marzan (Peepolykus, Benidorm, Paddington 1&2 – where he was also the physical comedy creator). I mean, come on! Marzan is someone I think we all could have watched on loop all night. He is a master of his physical comedy craft, free falling off the stage, bumping downstairs, knocking himself out with doors or cricket bats, and diving off railings! He makes everything funny whether he be stepping off a step or eating a banana – Marzan just has brilliantly funny bones.
The audience love One Man Two Guvnors, not only because it is simply brilliant, but because they become a part of the show. Hide your snacks, don't show off your muscles and stay alert else you might jut find yourself on stage like Joe and Simon, moving a trunk and being banned from The Cricketers Arms pub! This play is a master of the farce and a fantastic highlight of this is none more so than the scene where Francis has to serve a meal to each of his respective Guvnors at the same time, who are in opposing rooms, without letting each of them find out about the other, and whilst trying to include his own belly in the distribution of food as it appears. Add in an 86-year-old waiter with a pacemaker who is at his first day of work and it is farcical, slapstick heaven. It is a lengthy play that held the attention of its audience throughout and I thoroughly recommend.


WE SCORE ONE MAN TWO GUVNORS – 9/10


Most Popular Shows and Events in Liverpool