COMPETITION - Win 4 front row circle seats to see The Wizard of Oz at Liverpool Empire on Saturday 23rd December 2023
COMPETITION - Win 4 front row circle seats to see The Wizard of Oz at Liverpool Empire on Saturday 23rd December 2023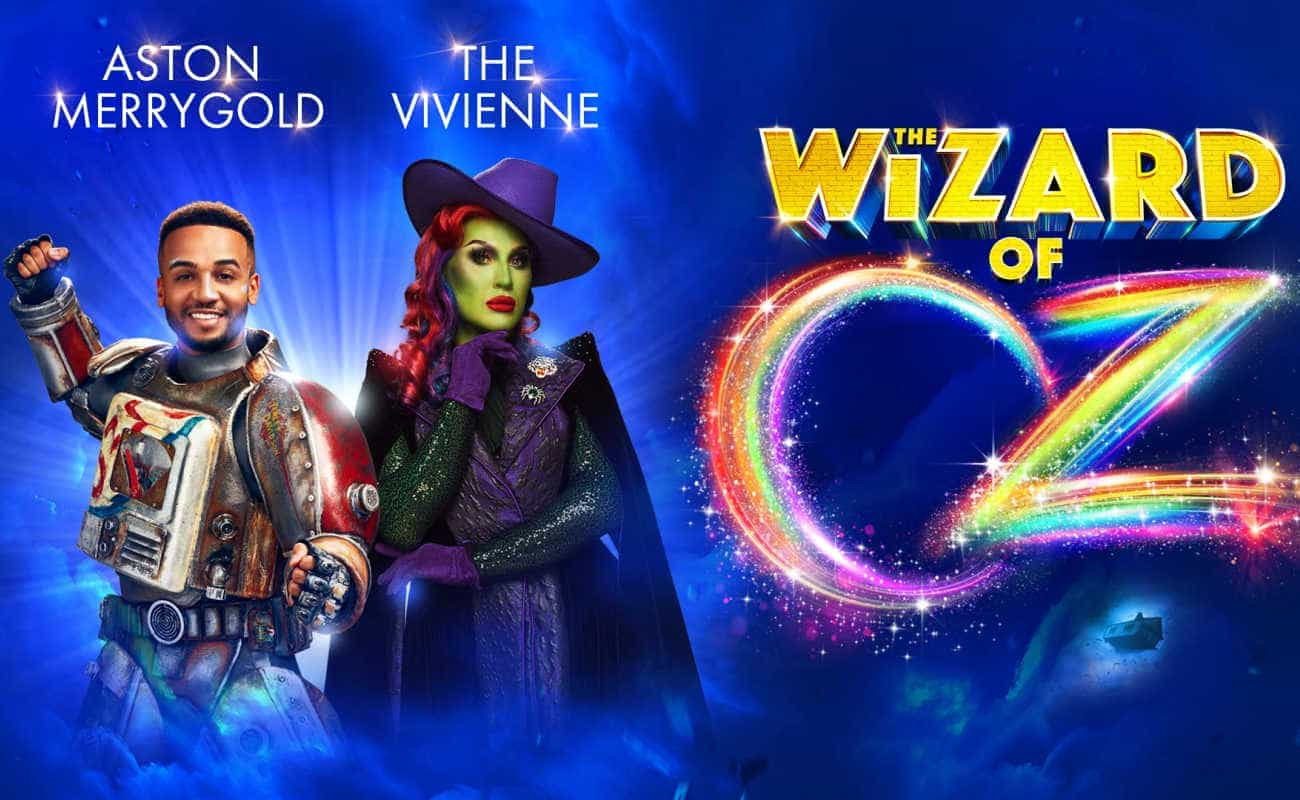 Liverpool Empire Theatre, Liverpool
Wed 13 December 2023 - Sun 7 January 2024
Win 4 front row circle tickets for Sat 23 Dec at 7pm
Win 4 front row circle seats tickets to see The Wizard of Oz at the Empire Theatre, Liverpool on Saturday 23rd December 2023 at 7pm. It's the perfect Christmas treat!
Starring JLS sensation Aston Merrygold as The Tin Man and RuPaul's Drag Race UK winner and Dancing on Ice star The Vivienne as The Wicked Witch of the West. This spectacular production of The Wizard of Oz will be a truly magical experience for all the family.
Featuring the iconic original score from the Oscar-winning MGM film including Over The Rainbow, Follow The Yellow Brick Road and We're Off To See The Wizard with additional songs from Andrew Lloyd Webber and Tim Rice.
Join Dorothy, Toto, and friends on an unforgettable adventure down the yellow brick road to the merry old land of Oz.
There's no place like Liverpool Empire this Christmas!
Age Guidance: 6+
Don't miss out, enter the competition today!
TO ENTER THE COMPETITION, YOU CAN HAVE UP TO 20 ENTRY CREDITS PER EMAIL FOR THE DRAW. YOU CAN RECEIVE 1 ENTRY CREDIT FOR EVERY ACTION YOU DO (JOIN OUR MAILING LIST, FOLLOW US ON INSTA, FACEBOOK AND TWITTER, SUBSCRIBE TO OUR YOUTUBE CHANNEL) AND IF YOU DO ALL, YOU CAN SELECT 10 BONUS ENTRIES!!

The competition ends on Sunday 3rd December 2023 and we'll contact the winner on Monday 4th December 2023. We will check entries have been made properly by the winner before sending the two prize tickets.
To take advantage of this offer, follow the instructions below...
Terms & Conditions
1.COMPETITION MECHANIC AND HOW TO WIN
Each section is worth one entry. It's free to enter.

Join the LiverpoolTheatres.com mailing list - by entering this section, you give LiverpoolTheatres.com and permission to join their mailing list

Instagram Follow - by entering this section, you should follow the Instagram account stated to receive your entry credit

Facebook Visit Like - by entering this section, you should follow the link to the Facebook group and like the group to receive your entry credit

Twitter Follow - by entering this section, you should follow the Twitter account stated to receive your entry credit

YouTube - by entering this section, you should follow the link and subscribe (it's free) to the LiverpoolTheatres YouTube channel to receive your entry credit

Visit Webpage - by entering this section, you should follow the link and visit LiverpoolTheatres.com to receive your entry credit

Bonus - if you enter all 10 sections, you can claim 10 bonus entries meaning you can have up to 20 entries for the competitionIf you are already following us on Facebook, Twitter, Instagram and YouTube, you can still enter.

2. Entry Platforms and Costs
It is free to join and enter
Entry is through the LiverpoolTheatres.com website

3. DATES
The draw ends on Sunday 3rd December and the winner will be contacted on Monday 4th December 2023.

4. ENTRY RESTRICTIONS
Open to UK residents aged 18 years or over on date of entry.
Tickets are non-transferable.
Winners must comply with the venue's COVID policy.
5. THE PRIZE
4 tickets to see The Wizard of Oz (row A in the circle, all seats located together)
Empire Theatre, Liverpool - Saturday 23rd December 2023 - 7pm
The Prize is non-transferable, non-refundable and there is no cash alternative.
Entrants who sign up to LiverpoolTheatres.com can opt out at any time. All marketing content which is sent to entrants will have an opt-out link within the content.
The successful winner will be sent tickets to their email address.
OTHER CONDITIONS
DATA PROTECTION

. Names and email addresses, will be collected and used to process entries. Winner's details may be given to the prize provider to arrange delivery of the prize. Your details may remain stored after the End Date but will

not

be used for marketing unless you have ticked an opt-in box on entry. If you have, your details will be used in accordance with the information given when you ticked the opt-in box and gave your consent.

MISCELLANEOUS

.

Entries that don't comply with these terms won't be accepted and you may be disqualified if we think you've breached them.
Participants can enter up to 3 times using 3 different email addresses (max of 60 entry credits)
If there is a dispute about the operation of the Competition, our decision is final, and no discussion will be entered into on this subject.
We may cancel / amend / end / suspend the Competition if we need to do so due to circumstances outside our control.
CONTACT DETAILS. Any concerns? Please email: info@liverpooltheatres.com
Concerns won't be considered if made more than 14 days after the date the winner is announced.
Our Liverpool Theatre Special Offers...